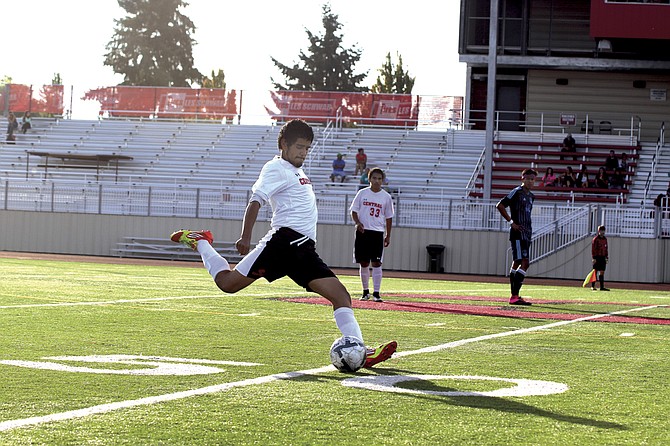 INDEPENDENCE — Central boys soccer coach Carlos Esquivel preached one thing to his players at the start of the season: patience.
After a 1-0 victory over Corvallis on Thursday, the Panthers are starting to see just how much that trait can pay off.
—
The start of the 2015 season was as much a learning process for Esquivel as it was for his players.
"We had to get used to the way he coaches," senior defender Alfredo Diaz said. "We were used to last year's coach. We had to learn how he wants us to play."
Inheriting an inexperienced squad, Esquivel had the Panthers make several adjustments on the field.
That required some players, like sophomore Evan Hoover, to change positions. Hoover, a lifelong forward, now starts on the defensive line.
"The most difficult part is when you have to make a decision that could cost your team," Hoover said.
Players were eager to help any way they could, but the transition hasn't always been smooth.
The Panthers went 1-4-2 during nonleague play.
After opening Mid-Willamette Conference play with a victory over Dallas, Central suffered a pair of close losses, including a 2-1 defeat to South Albany on Oct. 6 in which they were defeated in the final seconds of the match.

"I told them when we do get a lead, we can't let down, even for one second," Esquivel said.
It was a painful lesson for players to learn, but not one that would go unnoticed. After taking a 1-0 lead in the second half over Corvallis on Thursday, Central didn't let history repeat itself again.
"We just told everyone to start focusing," Diaz said. "League is what matters. We have to go 100 percent every game. Everyone started to step up to keep that lead. It felt good to know we kept composure."
The result was a 1-0 win that meant more than just improving the team's league record to 2-2.
"It means everything," Diaz said. "We didn't start (the season) off so well, but we're coming together. We're working and everything's coming out really well."
After a season that's been spent largely learning new roles, Thursday's victory was a validation for coaches and players.
"It's a huge boost of confidence," Esquivel said. "We've had some tough games, close games we feel we should have won. It gives us a little momentum going into the rest of the season and proving to ourselves that we can play as a team and win. We can't let down, even for one second. They showed the dedication to win that game. In the end, we have to keep pushing to the end. They saw that (on Thursday)."

Now, the Panthers look to build on Thursday's win.
"We just need to keep sticking together," Diaz said.