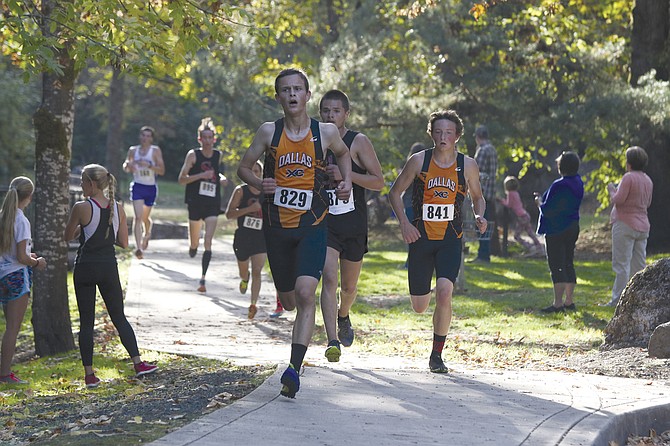 DALLAS — As the boys cross-country race began at Dallas City Park on Oct. 14, Dallas freshman Trevor Cross sprinted into the lead.
Behind him a trio of teammates followed him up the first hill.
"We figured the trail is kind of small, so we wanted to get ahead so we didn't have to pass people slower than us," Trevor said. "As a team, I wanted to see us turn in more sub-18 (minute) times."

Five of the Dragons' seven varsity runners recorded times under 18:00. Trevor Cross placed sixth in 17:06.5 — a personal record and the latest accomplishment for a runner hoping to make his biggest impact when it matters most.
—
Trevor entered the fall unsure of what the season would bring. Trevor, along with his brother, T.J., knew they wanted to play soccer and run cross-country.
"I expected success, but it was hard to tell (what would happen)," Trevor said. "I wanted to do soccer and cross-country, but I didn't know what to think at the beginning or what it would be like."
He may be a freshman, but it hasn't taken long for Cross to excel in both sports.
On the soccer field, Trevor earned himself a starting role.
In cross-country, he became one of the Dragons' top runners.
Cross recorded Dallas' fastest time at the Northwest Classic on Sept. 26 and has been the Dragons' top finisher in three of his last four races.
Though his latest time was his fastest yet, Trevor wasn't fully happy with his performance.
"I wanted to get under 17 minutes, but I barely missed it," Trevor said.
That drive is what's helped the freshman be successful.
"Trevor has the most amazing work ethic," Dallas coach Monique Lankheet said. "I have given him workouts to do in addition to soccer practice, and he does it on his own."
Training for two sports has led to some long and tiring evenings, but Trevor doesn't dread those days.
"I enjoy both of them," Trevor said. "It's fun. I like the competition."
Trevor has wasted little time endearing himself to teammates outside of sports as well — something that has impressed his coaches.
"He is super competitive," Lankheet said. "He has a very positive outlook and is humble, which I think is a wonderful quality. I can't say enough good things about him. He's a good guy."
He's hoping a season spent pulling double duty results in his best race yet on Wednesday.
"I'd like to get under 17 minutes, it's what I'm really close to," Cross said. "If I do, it would mean success for the season."
MWC championships
The Dallas boys and girls cross-country squads will compete at the Mid-Willamette Conference Championships on Wednesday (today) in Corvallis.
The top three teams advance to the state cross-country meet, plus any individual in the top seven from a non-qualifying team. Qualifying for state will be a tall order for the Dragons, but runners are hoping for a strong showing.
"We have a solid team now," Trevor said. "We have a chance to do better than we have in the past."

Trevor and T.J., Jesse Stuhr, Isaiah Letney, Kenny Sutton, Justin Huxel and Cody Tilgner will compete in the boys varsity race. Angie Sletten, Elizabeth Sutton, Alyssa Miller, Anneka Bloomstrom, Peyton Fast, Bekah Rocak and Elizabeth Dressel will run in the girls varsity race.
"The kids are well prepared," Lankheet said. "They have worked really hard and they have set themselves up to have their best performance. … All are running their best times and my hope is that they put out their best performance when it really counts. Everyone is super excited and optimistic about racing Wednesday (today)."