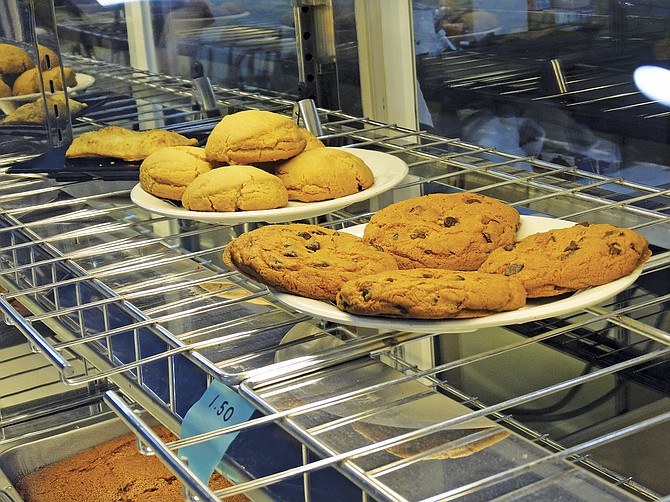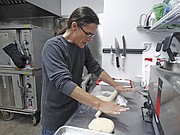 MONMOUTH — Stepping into Hadley's Radio Bakery, it doesn't seem like much. It's still a work in progress, with signs being made, art yet to be hung on the walls.
The display case isn't packed full of goodies like you might see in a commercial bakery. Instead, Hadley's displays a smaller assortment of delicacies.
Be glad. Hadley, 47, takes a small-batch approach, hoping customers will appreciate the attentiveness to his use of local ingredients and baking throughout the day.
It means the likelihood of grabbing a cookie fresh out of the oven is high.
"I do everything old-school," Hadley said. "I brush everything with butter or real cream, use local ingredients. They're not the prettiest things in the world, but they taste wonderful."
He's not exaggerating. The texture and flavor of his dark chocolate fig cookies are delightful and interesting. His caramel apple coffee cake is moist with plenty of crunchy strudel topping.
Hadley had spent 27 years in other people's kitchens. While he said he enjoyed the work — for the most part — it began to wear on him as restaurants he worked at became more and more focused on money and less focused on food.
"I'm really burned out — everybody is, I think," he said. "The food industry in this country has been in the midst of a hostile takeover by corporations. They don't know anything about food; all they know is money."
Of course Hadley wants to make a profit, but he wants to do it honestly, in his way — or rather, in the way your grandmother might.
"I want to be successful making food I'm proud of," he said. If he wouldn't serve it to his mom or girlfriend, he won't serve it to his customers, he added.
Hadley encourages customers to bring in old recipes, things they haven't had since they were a child.
"I want to be a community food place where everybody feels they had a hand in it," he said. "I want people to feel comfortable bringing me a recipe and saying, 'My mom made this for me when I was little; I haven't had this since I was a kid.'"
Hadley will play around with it and make it. If it's popular, he may even add it into his rotation.
"If you give the customers a chance to have some input, they appreciate that," he said.
Honest food
What: Hadley's Radio Bakery.
When: 7 a.m. to 5 p.m. Monday through Saturday.
Where: 165 Broad St., Monmouth.
Of note: Come early for the best selection. Also, Hadley will stream radio shows from the 1940s to customers' tables and is developing a back patio seating and herb garden.