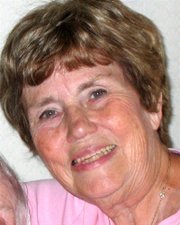 What fun it was to open the I-O last Wednesday morning and see all the great pictures of happy kids enjoying fall sports and learning so many good things about teamwork and activity. For those of us whose grandchildren are mostly in or have finished college and are out on their own, it's a joy to see that youth sports continue in MI Town and all our Polk County communities. Reading about these programs and attending the occasional game reinforces our thoughts that the majority of youth are involved in healthy activities and not sitting around glued to their electronic devices every waking hour of every day. We see people of all ages (full disclosure: including me) texting, reading email and talking on cellphones frequently, but most parents have managed to raise happy and well-adjusted children with a balance of studies, sports and play.

—
Mark your calendars for the Monmouth-Independence Chamber of Commerce's first Discover MI Town event on Saturday. You'll get an opportunity to visit businesses in both communities, receive discounts and be entered into drawings for prizes. Just park your car or walk to either Riverview Park (Independence) or Main Street Park (Monmouth) where shuttle service will be available from noon until 5 p.m. Tickets on Saturday are $25 per person or $15 with Western Oregon University student ID, or you can save $5 by ordering them online at www.micc-or.org before midnight on Friday. See you there.
—
With our backyard gardens nearly finished for this year, it was enjoyable to read Kym Pokorny's column about saving and preserving seeds. Both the peas and green beans (courtesy of the Monmouth Library's seed lending) provided us with an abundance of good veggies, so I am going to try to save their seeds for next year. Many years ago, I knew a dear friend who had saved and preserved corn for many years, and it was something we all looked forward to every summer. Kym also suggested saving tomato seeds, but that's way above my gardening pay grade. I'll continue to buy tomato plants from the Master Gardeners next spring.
—
The Monmouth Senior Center soup and pie sale last Thursday was one of the best ever, and if you missed it — you'll have to wait until springtime. It was a gorgeous autumn day with picture-postcard weather. Hungry folks from all around the area enjoyed a variety of wonderful homemade soups and pies, while meeting and greeting friends and neighbors. Congratulations and best wishes to all the hardworking volunteers who give many hours of their time and energy as a labor of love to our community senior center.
More like this story