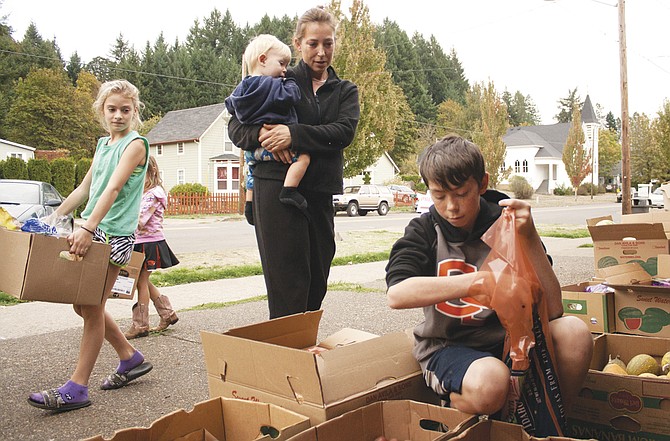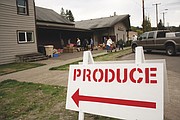 FALLS CITY — Donna Creekmore walked to a parking lot beside Mountain Gospel Fellowship Church in Falls City and said: "We started here."

She's talking about the weekly produce giveaway that happens every Friday at the church.
The program helps a third to nearly half the population of Falls City, but it started about a year ago as a small giveaway spearheaded by people who recognized a simple way to fill a need.
Back then, it was operated out of the bed of a pickup truck.
Now a multitude of volunteers are needed to deliver, unload and help families who visit the giveaway each week.
It's moved from the truck to using the entire front parking lot and covered walkway at Mountain Gospel.
"It's been needed for a while," said Charlie Flynn, a volunteer with the program.
A little more than a year ago, Falls City resident Angie Varney found out the weekly James2 Community Kitchen meal and food giveaway on Thursdays at Dallas United Methodist Church often had leftover produce. Working with the late Wayne Kester, who organized the Thursday meal, she volunteered to take the excess to Falls City and hand it out to residents there.
Each Friday, Varney would park her truck at Mountain Gospel, have her kids hold homemade signs, and gave out fresh produce to anyone who needed it. The giveaway grew so fast, Varney asked Creekmore to help.
It wasn't long before Varney and Kester realized that if expanded, the program could help more families in Falls City by providing fresh, healthy food for free on a regular basis.
Kester connected the Falls City volunteers with Marion-Polk Food Share to bring more fruit, vegetables and bread to the community on Fridays.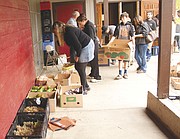 Last Friday, like many before it, there was a line outside the church at 4 p.m. when the giveaway opened. Boxes brimming with watermelons, apples, corn on the cob, peppers, potatoes, salad mixes and much more awaited people who signed in.
Melanie Doyle, along with three of her eight children were among those who come to the giveaway on nearly a weekly basis. She said with that many children in her house, food goes fast and is increasingly expensive.

"(For) a couple dinners a week we get the vegetables here," she said. "It helps out a lot. Everything just seems to go up."
The Doyle family is just one example of many in the community. Flynn said 90 families had stopped by Friday's giveaway little more than halfway through its two-hour window.
The numbers range from 70 to 120 families in a typical week, representing about 350 to 450 people.
Creekmore said that was what Varney and Kester had hoped for the program.
She said Varney had to step away due to health concerns. Kester, a longtime volunteer in Dallas and Falls City, died suddenly in July. But their vision continues through the work of organizers such at Creekmore and Flynn who have taken the reins in their absence.
"Really we owe everything to Angie Varney and Wayne Kester," Creekmore said.
The success of the program has caught the attention of Marion Polk Food Share. Creekmore said The organization is studying the successes in Falls City looking for ways to help families in similar rural communities where access to fresh produce is limited.
She said a component she believes is key to success is having organizers and volunteers with a connection to the community and who can create a welcoming environment.
That hasn't been a problem in Falls City, where the weekly giveaway has become something of a social event. Creekmore said she's seen people stop to talk with friends or make new ones after receiving their food.
That wasn't an expected outcome, but important nonetheless.
"It's huge," Creekmore said. "That's how you make it successful."
Resident Myron Yancey agreed, saying that is one of the reasons he likes to make the weekly trip to Mountain Gospel. He takes what vegetables the fruit he will use, but sees others who have more of a need for the program -- both nutritionally and socially.
"There are some people out here who really depend on it," Yancey said. "I see it as a benefit to the community, probably in more than one way."
Flynn said the program will continue to expand. It's now seeking a grant through the Salem Hospital Foundation to hold cooking classes teaching people how to prepare the produce they receive at the giveaway.
"A lot of the time, we have people asking us, what's this and what do you do with it?" Flynn said.
He said they've put together a cookbook with recipes using some of the more unusual items such as rutabagas and some varieties of squash, but they want to take it a step further.
"It's not enough. Giving somebody a recipe is great, if they know how to cook," Flynn said. "If they still don't know what to do with a rutabaga or bok choy, they won't do anything with it."
He said they sent a preliminary description of what the cooking classes would provide and are waiting to find out if they are invited to submit a full application. If the program is asked to apply, it would find out if it was awarded the grant around the first of the year.
Creekmore said even if the giveaway doesn't receive the grant, it will keep looking for ways to help. The rapid growth of the program -- and the response of volunteers willing to lend a hand – is proof the giveaway is desperately needed, she said.
"It's amazing," Creekmore said. "It's blown our minds."
More like this story