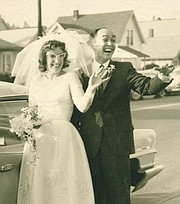 Cagle - 50th
Jesse and Joyce Cagle of Dallas will celebrate their 50th wedding anniversary on Saturday from 1 to 4 p.m. with family and friends at their home in Dallas. Jesse Sinclair Cagle and Joyce Marie McConnell were married Oct. 30, 1965, at The Nazarene Church in Coos Bay. Rev. Roy Green performed the ceremony. The couple was attended by Bertha Shepard and Dale Alum.

The couple had lived in Coos Bay and have lived in Polk County the past 47 years.
Jesse retired in 1997 as a teacher from Oakdale Elementary. Joyce retired in 1997 as a substitute teacher from the Salem and Dallas school districts.
Jesse helps usher in church and is very active in the American Legion and VFW post. He loves to bowl in a senior league and walks daily. Joyce enjoys quilting, cooking, playing games with friends, and church activities at Christian Missionary Alliance in Dallas.
Their family includes nine adopted children and several foster children. The couple has more than 30 grandchildren and many great-grandchildren.
DeVault - 50th
On October 29, 1965 Jim DeVault and Sue Montgomery made a commitment to God and each other to love and honor for the rest of their lives. This commitment has held strong as they celebrate their 50th wedding anniversary. They are blessed with two sons, Jeff (Laurie), Corey (Nancy) and two granddaughters, Brittany and McKenzie. They shared fellowship with family and friends.
More like this story