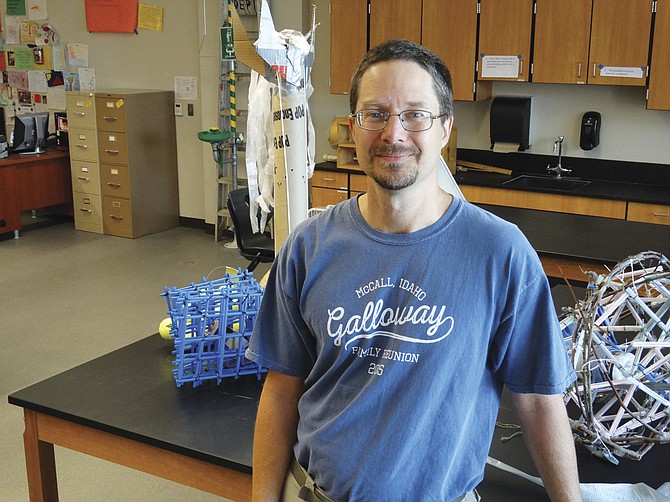 INDEPENDENCE — Eight years after "The Most Terrifying Video You'll Ever See" went live on YouTube — and some 11 million hits later — creator and Central High School teacher Greg Craven is being honored for his work in climate change education.
"It has stuck around and continued to pop up," Craven said of the video which started it all.
The 10-minute film — just Craven and a white board — lays out what Craven believed to be an original argument on how to look at climate change, he said.
"I was tired of the real disconnect on what the science was confident of and what the public was confident of," Craven said. "There was a real disconnect. Science was quite confident about the reality of climate change and humans doing it, and the public had very little belief in it, relatively."
In his effort to "break the deadlock and bridge the gap" between science and the general public, he asks people to think about the worst that could happen.
"I came up with a little two-by-two visual argument proposing instead of us getting hung up on the idea of whether it was true or not — for certain — instead ask, what are the chances and what do we want to do to manage those chances," Craven said. "Sort of risk assessment for the layman."
At the end of the first video, Craven invites viewers to poke holes in his theory.
"I teach that in my classes all the time," he noted. "The way science is unique and the way that it gets better over time is by trying to break ideas. The way you make an idea stronger is by inviting criticism of it."
Craven said he got plenty of criticism.
"People had lots of 'yeah, buts' and 'what ifs,' so I collected all those and did another eight hours of video answering every single rebuttal I could dredge up online," he said. "That led to a book."
For his efforts, the National Center for Science Education awarded him the 2015 Friend of the Planet.
This is the second year the center has given out this award. The center is known for countering the push back against the teaching of evolution in schools.
Recently, the center has taken on teaching the science of climate change also.
"Climate change is sort of in the same boat as evolution," Craven said. "Teachers that teach climate change get a push back from a subgroup of parents because they see it as being political and untrue."
While Craven has published videos and books with his opinions and views on policy and personal choices surrounding the topic, when it comes to the classroom, he is careful to stick to the science when it comes to climate change.
Parents don't want science teachers giving political "shoulds" to their students, Craven said.
However, he added that he doesn't see climate change as a political, environmental nor moral issue, but as a pragmatic one.
"It's not about saving the planet, it's about how do our actions come back and affect us," Craven said. "It's about the potential effects on us, and how that's going to very pragmatically affect me and my kids. Just like if you're building a city, you don't dump raw sewage in the river upstream from your drinking water."