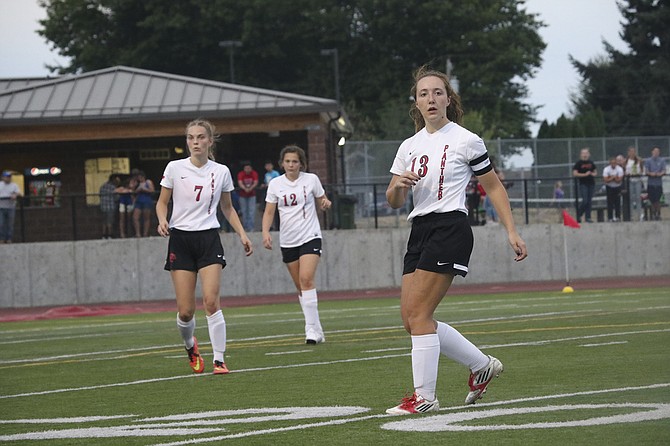 INDEPENDENCE — It was a routine play. A sequence of events that Central junior Alyssa Orozco had encountered playing for the Panthers' girls soccer team countless times before.
Near midfield, Orozco was fighting for control of a ball against her opponent.
This time, things took a turn for the worse.
"I was going for the ball and I had just taken the step to get the ball," Alyssa said. "My foot or my knee locked up on me and I felt my knee go out. The other girl didn't push me or anything."
Orozco suffered a left knee injury. She couldn't put pressure on it when being helped off the field and will see a specialist in Portland on Thursday to determine the full extent of the injury.
The outlook isn't good.
"The knee was swollen and the X-rays didn't see anything," Central coach and Alyssa's father Joe Orozco said. "There were no broken bones, thank God. They think it's maybe her ACL or meniscus."
Joe Orozco said there's a chance it could be a less serious injury than an ACL. If it is less serious, she'll likely miss at least a month. An ACL injury would mean the end of her season.
"I have it in a brace and I can't move it or anything (as of Tuesday)," Alyssa Orozco said.
The Panthers, which lost 11-1 to North Eugene on Thursday (Aug. 27), are left without one its captains and most experienced players, but Joe Orozco said Central can — and will — regroup quickly.
"We don't rely on one player," he said. "We're a team. It's a tough loss, but Naomi (Torres) and Lupita (Campos) are experienced and captains as well."
Alyssa Orozco's absence in the midfield also means Joe Orozco will make a few lineup changes, though he's not sure who he will move around just yet.
Joe Orozco remains optimistic about the season.
He believes the combination of the potential season-ending injury to a key player and lopsided loss to North Eugene should be a valuable lesson, not a devastating setback, for his team.
"It's a game we can learn from," Joe Orozco said. "We can find the errors on the field and fix them. This is what these games are for. We're a young team and we were nervous at first."
Among the issues Orozco hopes to address include putting on more pressure defensively.
Despite her injury, Alyssa Orozco plans to be at as many practices and games as she can to give her team support.
"I like talking to everyone and giving them my input if I have something to say," she said.
The Panthers play at Madison on Sept. 10 at 7 p.m. before hosting McNary on Sept. 15 at 6 p.m.
Just because Alyssa Orozco may be down for a count doesn't mean she or Joe plan to let Central falter.
"It's just a game," Joe Orozco said. "Any injury can happen any time to anyone. Don't keep our heads down. Keep fighting for every ball and just don't give up."