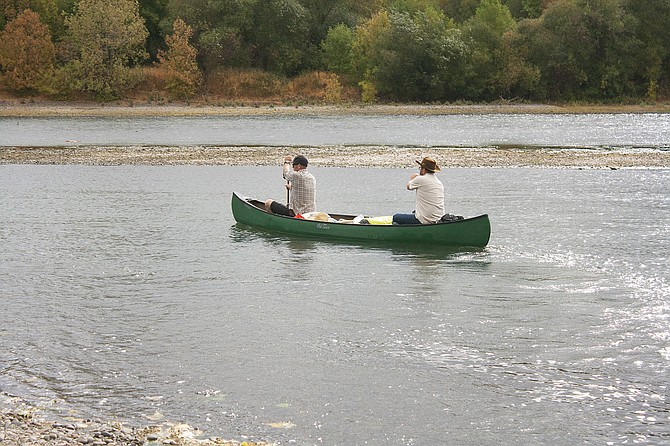 INDEPENDENCE — Leave it to Brad Ford and the crew at Illahe Vineyards to do something that likely hasn't been done commercially in decades: delivering wine via boat on the Willamette River.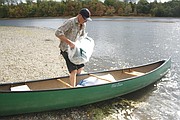 Specifically, by canoe, from Independence to the riverfront in Portland.
Ford and fellow river paddler, Ryan Kelley, loaded a canoe with Illahe's Project 1899 pinot noir — four cases encased in bubble wrap and dry bags for safe keeping — and camping supplies for three days on Saturday morning.
"I hope this thing floats," Kelley said looking over the loaded canoe just before they launched at about 9:30 a.m.
Soon they would find out, pushing the boat into the stream, which due to stormy weather and wind, had a pretty swift current.
It floats, and the current whisked them north, nearly out of sight in just a few minutes.
With the wind at their backs, it's a good start to a long journey for the pair — and their precious cargo due in Portland by Tuesday.
The delivery excursion isn't just an excuse for Ford and Kelley, both experienced canoers, to spend some time on the river. It's in keeping with how '1899' is made — without electricity, modern equipment, or techniques common to current winemaking practices.
Ford thought, why not finish the job by delivering it to the distributor the old fashioned way, too?
Making it easy is the fact that Illahe's distributor, Casa Bruno, is located right on the Willamette in Portland and was willing to take the wine from the river to its warehouse by bike.
1899's trek began on Friday, when Illahe's resident team of Percheron draft horses, Doc and Bea, carried the wine three miles by wagon from the vineyard located outside Dallas to Riddell Road. From there, a bike messenger pedaled the wine to The Three-legged Dog in Independence, where it stayed overnight.
Saturday, the goal is to make it to Grand Island near Willamette Mission State Park. Stormy weather wasn't going to make it easy.
"We are going to get rained on at some point today," Ford said, looking skyward. "There's a lot of wind. I didn't think there would be so much wind."
Thankfully, both Ford and Kelley have experience on the Willamette. Kelley has paddled from Eugene to Independence and from Independence to Newberg. Ford has paddled the entire length of the river.
Still, it's a commitment on Ford's part.
"I realized I haven't spent a night outside in about 10 years," he said.
He will have to endure at least two nights in a tent to make this trip work. In addition, wind and strong currents pose a challenge, especially considering their $3,000 cargo.
"It's going to push us broadside when we don't want to. We'll have to be ready to react," Kelley said. "And paddle hard."
After spending a night at on Grand Island, the pair will head up to Champoeg State Park for a night. From there, they will paddle to Oregon City, hauling the wine, canoe and supplies around the falls on the river.
The final leg of the journey on Tuesday will be from Oregon City to Portland, where Casa Bruno will pick up the wine.
Ford said while the wine itself will be delivered with no current technology, he didn't promise that two tired paddlers wouldn't take advantage of a few modern conveniences.
"We will stay somewhere in Oregon city, possibly the Best Western," Ford said, smiling. "We will see how sick we are of camping by then." -