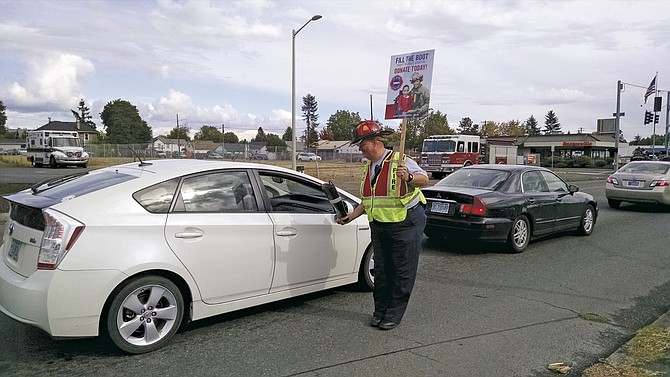 Valley Life Center to host simulcast
Valley Life Center, at 1795 SE Miller Ave. in Dallas, will host a Living Proof live simulcast on Saturday.
Doors open at 8:30 a.m. with the simulcast running from 9:30 a.m. to 4 p.m. Tickets are $10 each. Space is limited.
For more information: 503-623-4116; online at www.valleylifecenter.com.
Pull together to battle weeds
Join Luckiamute Watershed Council on Saturday for the statewide effort, "Let's Pull Together," an invasive plant eradication event.
Bring friends, family or a group to reduce the impacts of invasive plants. Members of the Luckiamute Watershed Council will be at Beazell Memorial County Forest in Philomath from 9 a.m. to noon.
For more information: www.luckiamutelwc.org.
NDA workshop at Monmouth Center
The Monmouth Senior Center will host a new program through the National Diabetes Association. Class will be every Thursday at 4 p.m.
The class fee is $20 for 16 weeks. It is for those who have been told by a physician that they are pre-diabetic. Participants will learn how diabetes can be prevented through weight loss, nutrition and physical activity.
Preregistration is requested. For more information: 503-838-5678.
Ladies Bible study begins Thursday
An inductive study of the books of Ezekiel and Zachariah for ladies will begin on Thursday at the Evangelical Bible Church, 1175 SE Howe St., Dallas.
Two sessions are available each Thursday, one at 9:30 a.m. and one at 7 p.m.
Cost of the textbook is $22.50.
For more information: Rosalee Stent, 503-623-5782.
Oberst guest at monthly potluck
Monmouth Mayor John Oberst will talk about what is ahead for the city of Monmouth and answer questions at the Monmouth Senior Center's monthly potluck at noon on Friday.
Bring a salad or dessert to share, a friend and table service. Lasagna will be provided.
RSVP for lunch, adventure movie
Meals at the Monmouth Senior Center are served Tuesdays and Thursdays at 11:30 a.m. On Sept. 17, a movie will be shown during lunch. The movie will be by John Ford's, "When Willie Comes Marching Home," and will begin at 11:15 a.m.
The high-flying adventure is based on the memoirs of war hero Sy Gomberg.
RSVP by 8 a.m. on Tuesday by calling Nancy at 503-838-2084.
Guthrie Park will host country dance
Guthrie Park Community Center will host the 2nd Saturday Old Time Square Dance from 7 to 10 p.m.
Cost is $5 per person. Children 12 and younger are free. A family rate of $15 for families of four or more is available.
No dancing experience is necessary. All dances will be taught, including oldtime squares, big circles, long way sets and waltzes featuring live music from Cash & Company.
The Guthrie Park Community Center is located at 4320 Kings Valley Highway.
For more information: Sally, 503-623-0809; email to guthriepark@gmail.com.
Friday is Gentle House work day
The Gentle House, located at Western Oregon University, will host a community work day Friday from 9 a.m. to noon. Lunch will be provided. Come prepared to work in the gardens. No tools or work experience is necessary.
For more information: www.wou.edu/gentlehouse/friends.
Dallas Caterpillar employee potluck

All former Caterpillar Dallas Plant employees and spouses are invited to attend a potluck picnic Saturday at Dallas City Park's Seibert-Fredrickson Memorial Shelter.
The picnic begins at noon with the potluck ready at 1 p.m.
Bring food to share, your own beverage, table service and folding or lawn chairs.
Coffee will be provided.
For more information: Jerry Bennett, 503-623-2946.
Handcrafted books at ACAC art class
Ash Creek Arts Center will host Second Saturday Family Art Class from 2 to 4 p.m. on Saturday at its building, 311 S. Monmouth St., Independence.
The class will teach children and their families how to make handcrafted books and journals.
Children should be old enough to manage scissors, glue, tape and other art supplies. All family art classes are free.
Registration is not required.
National Service Day project postponed
The National Service Day project on Hoffman Road, scheduled for Saturday, has been postponed until April of 2016. A number of xeriscape plants needed for the project are not available until the spring.
The project is now planned for April 23, 2016.
Members of the Monmouth Word Church of Jesus Christ of Latter Day Saints will work on a National Service Day project on Saturday, spreading bark in various locations, including Gentle Woods Park, city hall, senior center and Monmouth Dog Park.
The project will begin at 9 a.m.
For more information: Mark Fancey, 503-751-0147.
Have breakfast at Buell Grange
Buell Grange will host its monthly breakfast from 8 to 11 a.m. on Sunday at the grange, 5970 Mill Creek Road, Sheridan.
Breakfast includes pancakes, sausage and eggs; hash browns, sausage and eggs; or French toast and sausage — your choice for $6.
Juice and coffee or tea are included.
For more information: 503-623-8462 or 503-843-4703.
Volunteers needed for stage tear-down
The summer Music in the Park series is over for 2015, and that means it's time to take down the stage.
Volunteers are needed to help at 5 p.m. on Monday at Main Street Park in Monmouth.
The work is expected to take about an hour and a half. Food will be available afterward at MaMere's Bed and Breakfast.
For more information: Mark Fancey, 503-751-0147.
Learn about cookies at Step 4-H class
The Polk County Extension Service will host a Step up to 4-H class three-part series all about cookie making.
The class runs for three weeks starting Thursday from 6 to 8 p.m. at the extension office, 289 E. Ellendale Ave., Suite 301, Dallas.
The class will cover drop, roll and bar cookies. Youths in grades four through 12 are welcome, whether or not they are members of 4-H.
Cost is $2 for 4-H members, $3 for nonmembers.
For more information: 503-623-8395.
Festival benefits local non-profits
St. Thomas Jazz Festival will be on Sunday, 1 to 5 p.m. at Kathken Vineyards in Salem. Musical performances will include The Grand Jazz and Swing Band and Rebecca Hardiman and Friends.
The event benefits Polk County non-profits including Sable House, Salem Free Medical Clinic and Polk CASA. The afternoon jazz festival offerings include food, wine, silent auction, 50/50 raffle and a bake sale. The family friendly event allows attendees to bring chairs and blankets. No dogs or outside food and drinks are allowed.
Tickets are $10 in advance and $15 at the gate. Kathken Vineyards is located at 5739 Orchard Heights Rd NW. For ticket information email: stthomasdallasor@gmail.com or 503-623-8522.