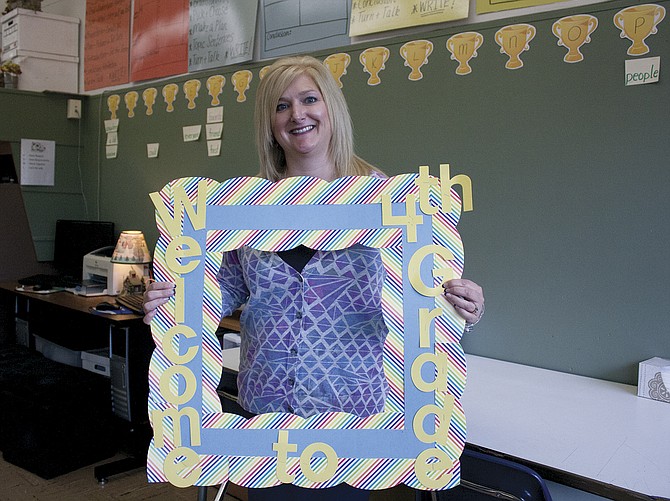 DALLAS — Whitworth's new principal, Darlene Geddes, and her family spent time converting her office into a "multi-purpose" meeting room last week.
They worked partially because enrollment at the school is to the point where every bit of classroom space is in use.
Mostly, though, they made the mult-purpose room because Geddes doesn't plan on spending a lot of time there.
She said it would be better used as a room teachers could meet to discuss strategies, student data, or meet with parents.
Her plan is to spend as much time in classrooms as possible, helping teachers teach and students learn.
"However I can be used for their good work is how I envision my usefulness," she said. "I don't think I'm very helpful in an office."
Geddes moved to Whitworth when former principal Steve Martinelli took a post at the district office as the director of instructional services. Before the transition, Geddes was an assistant principal at Dallas High School for one year.
Geddes, who has experience in schools at all levels, spent the last three years working with high school students in alternative education programs or who are struggling in traditional settings. Her goal as an elementary school principal is to catch those issues earlier.
"By providing the enrichments and interventions for students at this level, we really are setting a foundation for success for our students as they make their way toward graduation," she said.
Continuing communication between teachers in each grade level and between schools will be critical to that effort, she said.
"We are seeing a great deal of communication between third and fourth grade, which is amazing because that helps us develop plans for those kiddos as they are coming in," she said. "I would like to see that between fifth to sixth grade."
She also intends to analyze data about student performance to find both schoolwide and individual student struggles.
"That's one of our main goals is to continue fine tuning that, the ongoing collection and analyzing and using data to identify our school needs," she said.
Geddes also would like to incorporate more STEM (science, technology, engineering and math) into classes.
One thing students and parents won't see is much change to how the school day runs at Whitworth.
"I'm not typically a person who wants to change important and special traditions," she said. "I think they are there for a reason."
Taking a relaxing long weekend before the start of school is one of those. On Friday, Geddes shooed the school's staff home following its open house. She wanted everyone rested and ready for the first day.
"I'm really looking forward to having all the kids here," she said.