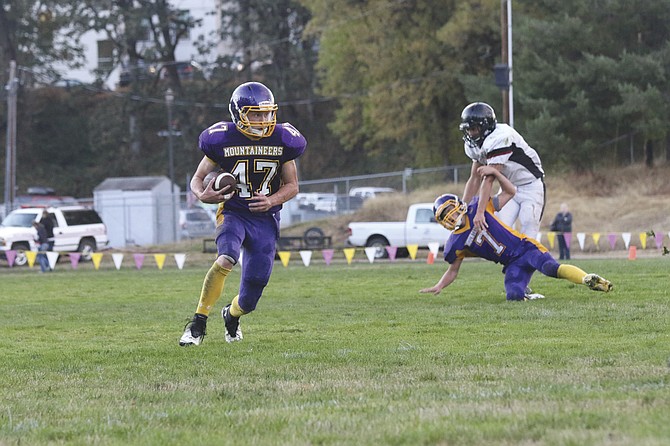 FALLS CITY — Falls City coach Laric Cook isn't one for moral victories.
After the Mountaineers' 28-24 loss to Perrydale on Friday, one that saw a potential game-winning touchdown run by quarterback Jeremy Labrado called back because of a penalty, Cook knew Falls City let one get away, but this time, Cook saw the positives.
"The kids work hard," Cook said. "They have a long ways to go, but they work their tails off."
Since the day he arrived, Cook said he's looking to change the culture of Falls City's football program. The Pirates took notice. The last time the teams played in 2013 — one year before Cook arrived — Perrydale won 76-28.
Things weren't quite so easy this year with the Mountaineers holding a 24-14 lead entering the fourth quarter.
"I want to compliment Falls City," Pirates coach Chris Gubrud said. "For sure, this is the best Falls City team we've ever played. They were extremely physical and extremely well coached. I'm proud to beat them. They're a good team. My hat is off to Laric (Cook) and his crew."
Falls City has its share of things to fix — notably a few breakdowns in pass coverage and an overhead snap on a punt that set up Perrydale's final touchdown; but there were several positive signs. Senior Zach Weems proved to be a force at running back, rushing for more than 100 yards, while Labrado connected on several deep passes.
For moments, the Mountaineers showed what Cook wants to accomplish — a team confident in its abilities and trusting its preparation. In others, the Mountaineers saw miscues pile up via penalties and turnovers. In the end, despite a loss on the scoreboard, Cook said he saw signs that what he's doing is making a difference,
"We've got to continue to pound away and make them believe," Cook said. "We want to lead them down the right path. When the kids see the results, they get wide-eyed. We don't want them to get too high or too low. But today we saw that we're changing the culture. We'll come back next week and play a pretty dog gone good football team in Powers. We'll have our hands full. We'll put together a game plan and represent Falls City the best that we can."