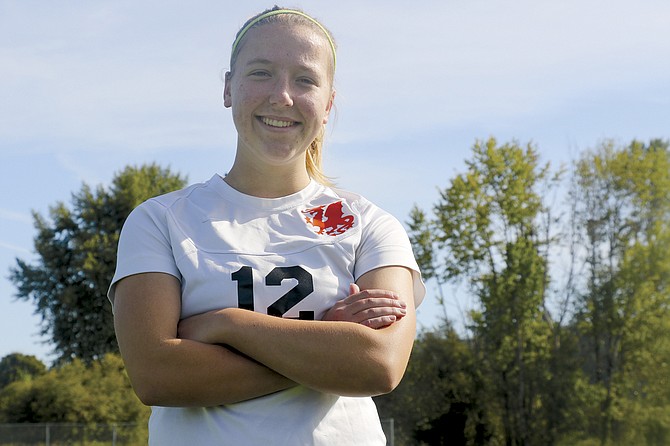 DALLAS — Dallas junior Olivia Dalke played soccer almost as soon as she could walk.
From the age of 4, Dalke was kicking around soccer balls.
"I started playing because my brothers were playing," Dalke said. "I wanted to do whatever my brothers were doing."
More than a decade later, Dalke is blazing her own path on the soccer field — and she hopes to lead Dallas back to the postseason.
—
Dalke's love of the game grew quickly.
"I've been going to college matches since I can remember," Dalke said. "(My favorite college team) is probably the Portland Pilots because I've been going to their matches forever."
On the field, her love for the game translated into success.
It wasn't long until Capital FC, a club team based in Salem, took notice.
"I got scouted when I was in sixth grade," Dalke said. "They came out to one of our games and told us about club soccer."
One year later and Dalke joined the squad when she discovered where she was meant to be on the field, moving to the midfield and forward positions.
"For a long time, I didn't really have a position," Dalke said. "I just played wherever the coach told me to play. In seventh or eighth grade, I started playing more attacking minded."
Since she joined the Dragons' soccer team, Dalke has developed into one of Dallas' playmakers through her passing and ability to shoot from long range.
"She's an offensive-minded player who is unselfish with the ball," Dragons coach Kirk Myrold said. "We'll look for her to make that pass to an open player. When she's near the box, her shots are strong and can find the back of the net. We look for her to take care of that offensive midfield to keep the pressure on the defense and score."
As one of seven juniors on the team, many of whom have played together since elementary school, the Dragons have high expectations in 2015 — despite dealing with a potentially difficult situation.
—
For the last three seasons, Dallas' girls soccer squad has seen three different coaches.
Despite that, the Dragons are coming off a 2014 season that saw them reach the first round of the Class 5A state playoffs — proof that Dalke and her teammates aren't going to let that become an excuse.
"Our core group has been together long enough that we're starting to get comfortable, even with all of the changes," Dalke said. "We have a lot of strong personalities on the team. We just focus on our game and, even if the coach changes, we know the kind of soccer we can play."
Perhaps the biggest challenge facing Dalke and her teammates is finding a balance among teammates who possess leadership qualities and aren't afraid to use them.
"We have a lot of leadership potential," Dalke said. "Sometimes it's hard juggling a lot of strong personalities, but I think we're learning how to do that."
Dallas, which hosted David Douglas Tuesday after press time, will rely heavily on its junior class to carry the squad, from goalkeeper Ashlee Lichtenberger to Stefani Tallon and Dalke helping to lead the attack.
That reliance on everyone working together is part of what makes soccer so great, Dalke said.
"I like the team component," Dalke said. "You can't have 11 one-man teams on the field. It has to be a group effort."
Since she began playing soccer, it has become a lifelong passion she hopes to play in college.
"I can't imagine myself in any other sport, honestly," Dalke said. "I'm very glad that they started soccer."