Scroggin - 50th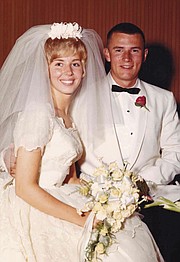 Wes and Kay Scroggin of Dallas are celebrating their 50th wedding anniversary in Vancouver, B.C., and Victoria, B.C. Wes Scroggin and Kay Stipac were married Sept. 18, 1965, at the Church of Jesus Christ of Latter-day Saints in Portland. The couple was attended by Gloria Hunter and Hardy Scroggin.

The couple has lived in Polk County for 48 years.
Wes retired in 1997 from Oakdale Elementary School in Dallas as the principal. Kay retired in 1997 from teaching at LaCreole Middle School in Dallas.
Wes and Kay love traveling, reading and volunteering.
Their family includes Jason and Ali Scroggin of Tualatin, and Derik Scroggin of West Salem. The couple has three grandchildren and four great-grandchildren.
More like this story