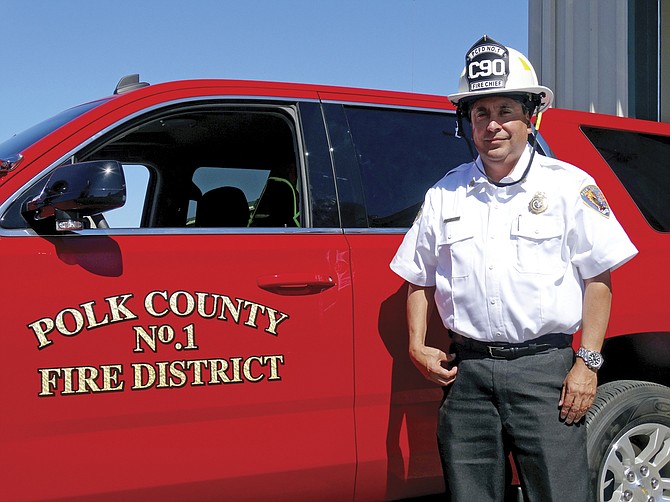 INDEPENDENCE — Firefighting is the only career the new Polk County Fire District No. 1's chief Al Alcalde has ever known, or wanted.
"A lot of our neighbors were firefighters for the city of Torrance (Calif.)," Alcalde, 54, said. "I was in track, and I saw a lot of the firefighters on the track working out."
When he graduated from high school, he joined the Air Force and took a job fighting fires.
"It was a different kind of firefighting because we were on a base," Alcalde said. "Our primary responsibility was for aircraft."
He learned a lot about fire suppression — putting fires out — while in the Air Force. When he got out of the service, he wasn't sure he'd be able to find a job in firefighting. He took a position as a dispatcher in Redondo Beach, Calif., before getting a job with Northrup Aerospace as a firefighter.
"In that position, I learned a lot about (fire) prevention," Alcalde said.
Later, while working at the Port of Portland, he became a paramedic.
With the experience of a dispatcher, firefighter and paramedic, Alcalde took his career to public fire departments, first with the city of Dundee.
"At that point in my career, I'd only worked with career folks," he said. "Working with volunteers is a whole different atmosphere."
Alcalde is excited to be at a mid-sized fire department with a mix of career and volunteer firefighters. He said a volunteer training exercise last week brought 35 people out.
"I was very impressed with the group," he said. "Obviously there's a lot of support here, so that's good. It's positive. It says a lot about the department to see all those people out there training."
Alcalde doesn't expect to make any changes very quickly.
"I think the organization is strong and there's good people here," he said. "But I'm going to look at things over time and see if we can be a little bit more efficient."
He plans to be visible in the community, and not just on an ambulance or fire engine, but engaged in volunteer opportunities himself.
"That's just who I am," he said. "I think it's very important to be involved, not only for myself, but for the department."
In previous jobs, Alcalde said firefighters volunteered as timers for the high school track team, or read to kids.
"We still have our primary job to take care of, but when we do have some time, we can get involved in little activities," Alcalde said.