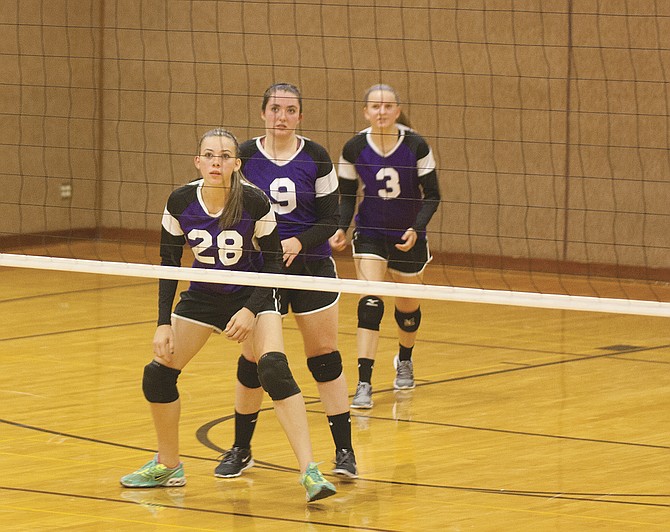 FALLS CITY — Falls City picked up its first win of the season, defeating Jewell 25-12, 25-11, 25-13 on Thursday.
"The girls really came alive tonight," Mountaineers coach Roxi Barnhart said. "We set out to work on our perseverance, and the girls did exactly that (on Thursday). They played aggressively to the very end."
Senior Allison Kidd had four aces, two kills and 17 points overall, while Jaime Shaw had two aces, two kills, one dig and 15 points overall. Freshman Amara Houghtaling added two tips, one kill and one dig.
"(The girls) flowed together and had the most beautiful synergy the entire game," Barnhart said. "Brittany Varney, Tiauannah Davis and Anna Lammers were right there helping make plays possible."
The Mountaineers entered the week 1-2 overall and 1-1 in Casco League play. Falls City played at Perrydale Tuesday after press time and hosts Willamette Valley Christian Thursday at 5:30 p.m.
CENTRAL DEFEATS SOUTH ALBANY: The Panthers earned a five-set victory over South Albany on Sept. 8, winning 25-22, 20-25, 19-25, 25-13, 15-9. Central (1-3 overall, 1-1 Mid-Willamette Conference) hosted Crescent Valley Tuesday after press time. The Panthers play at Lebanon Thursday before participating in the Dallas Tournament Saturday at 8 a.m.
PERRYDALE STAYS UNBEATEN IN LEAGUE PLAY: Perrydale improved to 3-0 in Casco League play, defeating Livingstone Adventist 25-16, 25-6, 25-7 on Sept. 8 and Crosshill Christian 25-16, 22-25, 17-25, 25-18, 15-8 on Thursday. The Pirates (4-1 overall) split a pair of nonleague matches on Friday, defeating Lowell before falling to Crow. Perrydale hosted Falls City Tuesday after press time and plays at Country Christian on Thursday before competing in the St. Paul 3-Way tournament on Saturday.