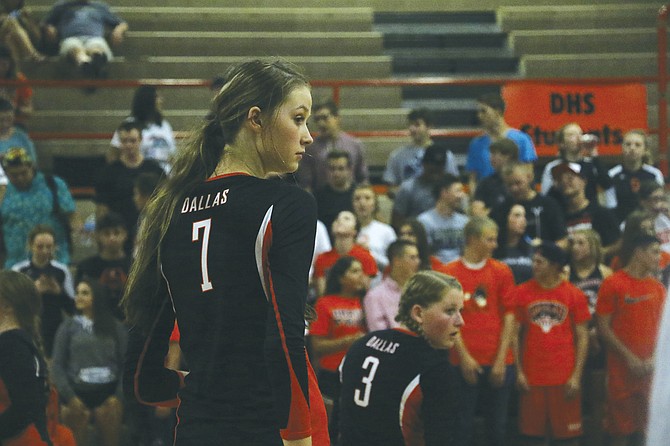 DALLAS — The Dallas volleyball team has many strengths.
Height is not one of them.
"We're not a big team," Dragons coach Sha-na Lavier said. "We played Nao-mi (Howe) on the outside and she's 5-foot-2."
There is one exception — sophomore Tristin Savage — who, despite playing on varsity for the first time, is towering over her competition.
—
Excluding Savage, Dallas' tallest player measures 5-foot-8.
Savage stands taller than her teammates at 6-foot-5.
"We tell people she's 5-foot-17," Lavier said, smiling.
Savage is no stranger to standing out among her peers.
"(I've been tall) my whole life," Savage said. "When I was in sixth grade, I was 6 feet tall."
Volleyball and basketball became natural sports for her to try. It hasn't taken long for Savage to excel at both, but it's volleyball that has lit a competitive fire.
"I like how fast it is," Savage said. "I like hitting the ball. It's just awesome. I like to see people's faces when you get a kill."
Getting a kill is a common occurrence for Savage. As a middle blocker, Savage presents a big matchup problem for opponents.
When going up for a kill, her length allows her to choose whether to spike the ball at the height of her jump or wait until her opponents are no longer in the air.
Savage's ability was on full display on Thursday evening, recording 10 kills during the Dragons' five-set victory over rival Central.
"I try and see if I can hit around the block," Savage said. "Usually I can because of my height."
She's a tall order for opposing players on defense as well — one look at players hoping to hit the ball over Savage shows just how difficult she can make life for those trying to challenge her.
"I like blocking," Savage said. "Being able to just dominate (at the net) is fun. I can jump into the net and sometimes block balls with my elbows on accident."
The Dragons hope to tap into Savage's potential throughout the season as she could make the difference whenever she steps onto the court.
"The key is keeping her confidence up and keeping her aggressive at the net," Lavier said. "She doesn't know how good she is. She's only going to get better. It's awesome. We have some really young players and it's great to see them step up and take charge."
Savage has made her presence felt already, but she's not satisfied.
She's focused on increasing her agility, speed and strength.
Savage's emergence has been coupled with a strong start by the Dragons as a team, who entered the week 2-0 in Mid-Willamette Conference play, including erasing a 2 sets to 0 deficit against the Panthers in a match that saw Maci Ackerman lead the team with 16 digs and Isabell Topete record 11 kills.
"Instead of the girls falling apart, they rose to the occasion and took care of each other," Lavier said.
As Dallas continues league play, it's the team's youngest players who may decide how successful the Dragons will be this year. One thing is clear — Savage will be standing tallest.
"We've improved so much from day one until now," Savage said. "I'm excited to see what happens this year. I'm excited to see how much we grow next year. I'm just excited."