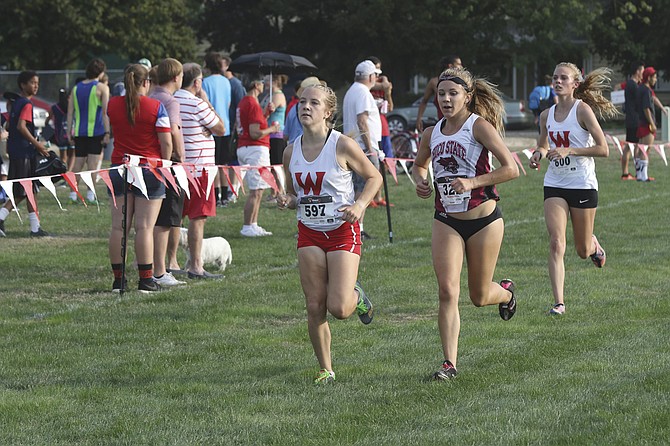 MONMOUTH — Western Oregon's men's and women's cross-country teams kicked off their 2015 season by hosting the Ash Creek Invitational on Friday. The men's squad placed fourth out of 13 teams, while the women finished eighth out of 12 squads.
Sophomore David Ribich led the Wolves with a 14th-place finish (19 minutes, 7.3 seconds) in the 6.3-kilometer race.
Nicole Maurmann, a junior transfer from Lane Community College, led the women, finishing the 4.6-kilometer course in 17:38, placing 28th. Freshman Grace Knapp placed 37th with a time of 17:52.1.

WOU travels to compete at the Sundodger Invitational in Seattle on Saturday.


FOOTBALL RALLIES FOR WIN: Trailing 14-12 entering the fourth quarter, Western Oregon scored the final 19 points of the game to earn a 31-14 victory over Simon Fraser on Saturday. Quarterback Trey Shimabukuro threw for 233 yards and three touchdowns, while defensive back Danny Hankins returned an interception for a touchdown to help put the game out of reach. WOU (1-1 overall, 0-1 Great Northwest Athletic Conference) plays at Central Washington on Saturday in a nonconference matchup.
VOLLEYBALL GOES 2-2: The Western Oregon volleyball squad went 2-2 while hosting the Western Oregon Invitational Thursday through Saturday. The Wolves defeated Adelphi 26-24, 23-25, 25-19, 25-18 and Notre Dame De Namur 19-25, 25-27, 25-18, 25-15, 16-14 in the first and final games they played of the weekend. WOU lost to California State-Chico 25-17, 22-25, 25-18, 25-10 and Wisconsin-Parkside 20-25, 25-17, 19-25, 25-20, 15-8. Redshirt sophomore Alisha Bettinson had 54 kills, while junior Christie Colasurdo recorded 93 digs to lead the team. The Wolves open conference play by hosting Alaska Anchorage on Thursday and Alaska Fairbanks on Saturday. Start time is scheduled for 7 p.m. for both matches.
SOCCER PICKS UP OVERTIME WIN: For the second time this season, an own goal decided a WOU soccer game. This time, the Wolves picked up a 2-1 win over Colorado Christian in overtime. Senior Shelby Peterson tied the match at 1 with her first goal of the season in the 71st minute. Four minutes into overtime, Colorado Christian scored on their own goal as WOU improved to 3-1 overall. Western Oregon also defeated New Mexico Highlands 2-0 on Sept. 8 and Evergreen State 1-0 on Monday. The Wolves begin GNAC play by hosting Western Washington Saturday at 3:30 p.m.