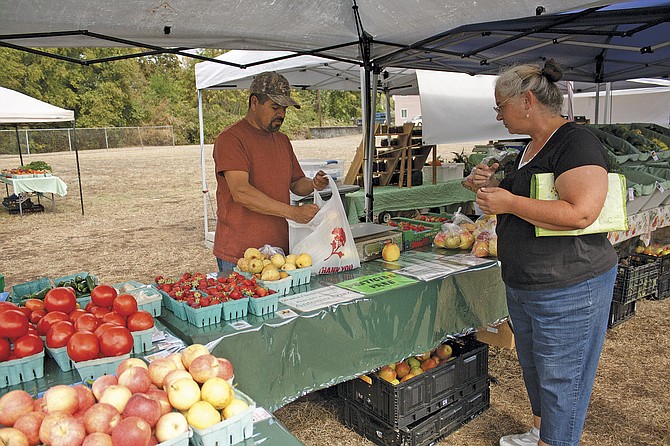 Artist reception on Thursday for ACAC
An artist reception will be from 4 to 6 p.m. on Thursday for Ash Creek Arts Center's exhibit, "Enchanted Gardens," on display now at Willamette Riverside Studios, 235 S. Main St., Independence.
The exhibit features gnome-inspired art by Sarah Lopez, of Salem, and ceramic hobbit houses in miniature gardens created by students in the arts center's summer art camp.
The event is free and open to the public.
Gallery hours are 3 to 6 p.m. Tuesdays through Fridays.
IDA to host bunco benefit at Redgate
Bunco games start at 6 p.m. on Friday at Redgate Vineyard, 8175 Buena Vista Road, Independence.
Cost is $15, which goes to the Independence Downtown Association. A no-host bar is available. Appetizers will be provided.
Tickets are available at Ash Creek Animal Clinic, Curves or Umpqua Bank.
Young Eagles to rally at Indy airport
Youths aged 8 to 17 may come to the Experimental Aircraft Association Chapter 292's hanger at the Independence State Airport, 4905 Airport Road, from 8:30 a.m. to noon to learn about aviation and take a free flight with a pilot.
The program is part of the Young Eagles Flight Rally program. Pilots from the EAA Chapter 292 host Young Eagles events twice a year.
Also, Teen Aviation Weekends, open to students in middle and high school, are held in fall and spring. The next Teen Aviation Weekend is Oct. 17 and 18. Deadline to register for this free weekend is Oct. 9.
For more information: www.eaa292.org.
Fire Pup, REACH to make appearance
Polk County Fire District No. 1 will host an open house from 1 to 4 p.m. on Saturday at Station 90, 1800 Monmouth St., Independence.
The event is open to the community. District personnel and volunteers, with help from Fire Pup, will present a variety of events, activities, demonstrations and informational items including fire engine rides, blood pressure checks, information on the FireMed, Knox Box, Explorer and volunteer programs.
A REACH air ambulance will be on site, as well as representatives from Polk County Emergency Response Team, Polk Search and Rescue, and Cub Scout Pack 38 to provide information about their programs.
Hot dogs and popcorn will be available.
For more information: 503-838-1510.
TLC holds 'Prayer Around the Cross'
Trinity Lutheran Church's "Prayer Around the Cross" prayer service is Saturday at 5:30 p.m. at the church, 320 SE Fir Villa Road, Dallas.
All are welcome to attend to share in prayer, scripture, singing, silence, lighting of candles and quiet reflection.
For more information: 503-623-2233.
'Hearts and Wines' FFA event Saturday
The ninth-annual Hearts and Wines Scholarship fundraiser, hosted by Dallas FFA Alumni, is Saturday at Eola Hills Wine Cellars, 501 S. Pacific Highway W. (99W), Rickreall.
Tickets are $25 and can be purchased from Dallas FFA, Dallas Alumni and at Dallas Les Schwab, 121 Main St. Dallas.
Appetizers are served at 5:30 p.m.; a dessert auction is at 6:30 p.m., followed by a tri-tip dinner. Babysitting is provided.
For more information or to buy tickets: Ryan Rowley, 971-241-9157 or Suzanne Burbank, 503-838-6003.
Dallas Library will host Poet Laureate
Oregon Poet Laureate Peter Sears will read from his poetry and discuss the role of poet laureate at the Dallas Public Library Friday at 6:30 p.m.
Former Gov. John Kitzhaber appointed Sears in April 2014. He is the author of four full-length poetry collections, including his most recent, "Small Talk." Sears will have his books available for purchase and will provide autographs.
The Poet Laureate program is a collaborative project of the state's five cultural partners: Oregon Arts Commission, Oregon Humanities, Oregon Heritage Commission, Oregon Historical Society, and State Historic Preservation Office, with funding from the Oregon Cultural Trust.
For more information: 503-623-2633.
Curves set to host wellness seminar
Curves of Independence will host a Women in Wellness lecture from 6 to 7:30 p.m. on Wednesday (today) at its gym, 156 C St., Independence.
Dr. Elizabeth Frates will discuss putting yourself front and center, and that it's not selfish to do so. She'll share strategies and ideas on how to prioritize taking care of yourself no matter how busy you are. The event is free.
For more information: 503-838-7109.
'Talk about Dying' seminar is Thursday
Monmouth Public Library will host a "Talking about Dying" seminar at 6 p.m. on Thursday at the library, 168 Ecols St. S.
The event is meant to open facilitated conversation about this often difficult subject, and is part of a statewide initiative by Oregon Humanities, in partnership with Cambia Health Foundation.
For more information: ci.monmouth.or.us.
St. Thomas to host 'Brew and BS'
St. Thomas Episcopal Church will host "Brew and BS," a seminar about science and religion, at 7 p.m. Wednesday (today) at the church, 1486 SW Levens St., Dallas.
Participants are invited to bring their own brew — beer, tea, coffee, wine, cider — and discuss various topics of science and religion, including Copernicus and Galileo; faith and reason; Darwin; creationism; and natural theology and deism.
Moderator will be John Mark Krenkel, who has a bachelor's in religion and a master's in religion.
All are welcome. For more information: Janice Wolcott, 503-831-5593.
Dallas Seniors hold Music Jam Thursday
Dallas Senior Music Jam kicks off its ninth season of musical fun on Thursday at 6:30 p.m. All singers, musicians and music lovers of any age are welcome to come and share their talents.
Performers expected include Kermit Bail, Johnny Leigh, Chris Cutler, Lee and Evelyn Easter, Fred Hardin, Dennis Lemon, Dick Reilly, The Notorious Leopard Chicks, and Jam Host, Michele Campione.
Admission is free, but donations and a snack to share at intermission are welcome. The jam is held at the Dallas Senior Center, 955 SE Jefferson St., in the Dallas City Library building.
For more information: Michele at 503-507-5240.
More like this story