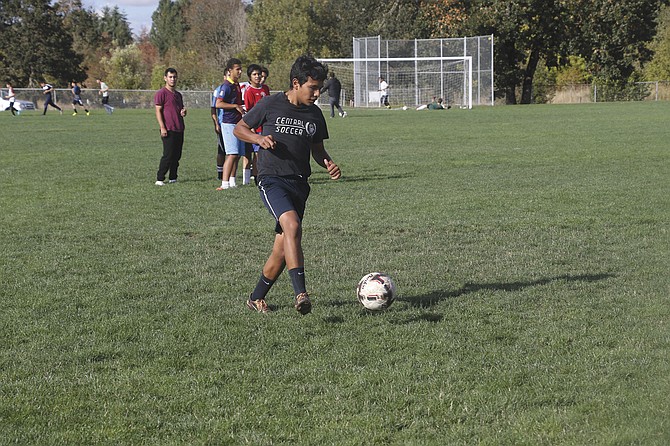 INDEPENDENCE — Throughout his athletic career, Central sophomore Aaron Padilla has always loved soccer.
From the day he began playing on a club team when he was 10, to starting at center midfielder for the Panthers this fall, soccer has been his sports true love.
"I like everything about it," Padilla said. "From the people you play with to the matches. Overall it's a fun sport."

Lately, that passion has been rivaled by another — running.
"I started running long distance in my eighth-grade year," Padilla said. "Freshman year, I tried longer distances and got into (cross-country and track and field) more. It was fun and I had some friends doing it. I started liking it, but I didn't want to miss soccer."
Torn between wanting to run cross-country and continuing to play soccer this season, Padilla decided to pull double duty and play both.

Once Padilla decided to participate in two sports there was one more critical hurdle to clear — the coaches.
Boys soccer coach Carlos Esquivel and cross-country coach Eli Cirino met to discuss how to best split his time to give him chances to succeed at both. Cirino also talked to his boys team about the situation. Everyone was excited for Padilla to give it a go.
"The first thing that Carlos and I talked about was whether we thought he was capable of pulling this off without hurting his performance on the soccer field," Cirino said. "... I absolutely think Aaron is capable of pulling this off or we wouldn't even have tried."
During the school year, he focuses primarily on attending soccer for practices, but participates in cross-country meets as schedules allow.
That means in any given week, Padilla is playing in two soccer matches and running at a cross-country meet — a daunting task, but one he's getting used to.
"It's not as tiring as it sounds like (it should be)," Padilla said.
In fact, playing two sports helps him get into better physical shape for the other, Padilla said, and he's becoming one of the Panthers' top performers in each.
The sophomore finished second for the Panthers at the Silver Falls Oktoberfest Invitational on Sept. 16, finishing in 19 minutes, 32.7 seconds, 0.3 seconds behind the team's top finisher, Zachary Meyer.
More important than his results, Padilla said cross-country provides the same level of kinship he has grown used to playing soccer.
"You still feel like you're on a team," Padilla said. "The other runners help push you while you're running."
On the soccer field, Padilla starts as a center midfielder, where he's responsible for helping shift the ball from the defenders to the forwards and start the Panthers on their offensive attack.
He's helping to form the core of Central's squad.
"Aaron is a young player who has a lot of potential," Esquivel said. "He needs work, like all the players do, but I can tell he's going to be an excellent player."
Padilla knows the soccer squad is a work in progress, but the Panthers are seeing the fruits of their labors pay off, earning a 3-1 victory over West Albany on Friday — the team's first of the season.
"We're a young team, but we have time to progress," Padilla said. "I know I can get better in passing the ball faster and communicating more. We always have areas to improve on."
While Padilla balances two sports, both Esquivel and Cirino are keeping a close eye on him so he doesn't burn himself out.
For now, Padilla is happy for the chance to compete in both his lifelong — and newfound — passions.
"I love playing both sports," Padilla said. "I feel privileged to be able to compete in both."