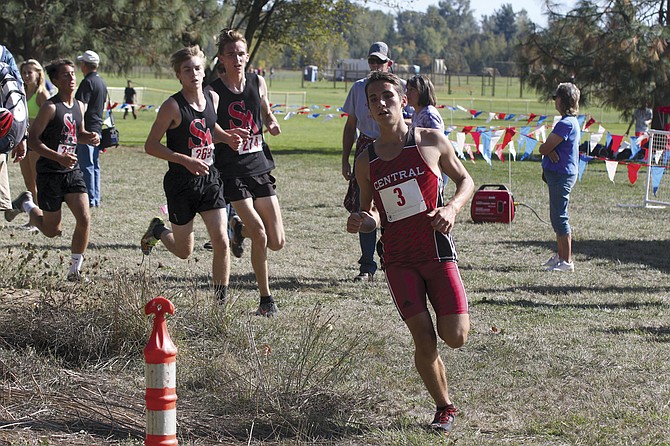 SISTERS — Central sophomore cross-country runner Bailie Hartford placed first overall in the girls varsity race at the Outlaw Invite, winning the 5,000-meter run in 20 minutes, 19.2 seconds on Saturday.
Junior Abby McBeth pla-ced third (21:01.2); while senior Jamie Smith finished 10th (21:46.6). The Panthers girls finished second behind Sisters.
Hartford also placed fourth at the Mid-Willamette Conference Preview meet on Sept. 23.
"We have had quite a few injuries and small setbacks that have slowed our progress, but we are seeing some growth," Central coach Eli Cirino said. "Bailie, Abby and Jamie looked strong (at the Outlaw Invite). Anne Marie (Hasbrook) and Bethanie (Altamirano) did not run (on Saturday), or we might have won the meet."
The boys squad placed third at the Outlaw Invite. Junior Zachary Meyer took seventh (18:05.9), while Ammon Jeffries (18:28.0) and Darien Hume (18:30.6) placed 11th and 12th. Meyer also placed 12th at the Mid-Willamette Conference Preview Meet.
Freshman Jaydon Aydelotte and sophomore Rufus Schrader also ran well at Corvallis, Cirino said.
Central will compete at the Harrier Classic in Albany, Saturday at 9:30 a.m.
"The Harrier Classic is always one of our favorite meets, and we have run some of our best times there," Cirino said. "We are a stronger team this year. They have a better understanding of team dynamics and how to work together."
VOLLEYBALL SPLITS MATCHES: Facing two of the Mid-Willamette Conference's top three teams, Central's volleyball squad earned a split against Silverton and Corvallis. The Panthers lost to the Silver Foxes 25-15, 17-25, 25-17, 26-24 on Sept. 22 before defeating the Spartans 23-25, 25-17, 16-25, 25-13, 15-8 on Thursday. Meaghan McGuyer had five aces, while Alexandra Dowdell had 26 kills and 21 digs against Corvallis. Krista Omlid added 11 kills, Jori Kerr had 22 digs and Kylie Nash recorded 45 assists. "We had a great match vs. Corvallis," Central coach Claudine Mendazona said. "I was very proud of our team's performance. We were able to execute our offense consistently, and we served at 93 percent, giving us more opportunities to score." The Panthers (4-6 overall, 3-3 MWC) entered the week tied for fourth. Central hosted Woodburn Tuesday after press time. The Panthers play at South Albany on Thursday, host Dallas Monday at 6 p.m. and play at Crescent Valley on Oct. 7.