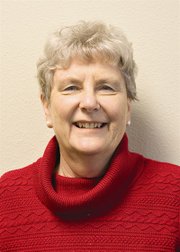 Marge Robertson's grandson, Josh Robertson, of Pedee, recently got engaged to Sarah Fast, of Dallas. Josh works for the city of Corvallis, and Sarah teaches ceramics at Dallas High School. They plan to get married on Dec. 19 in Dallas and then live there.
—
Dorothy McBeth celebrated her 94th birthday on Sept. 20 with a birthday party at the clubhouse. The place was full as friends and relatives came from near and far to wish her a happy birthday. Some people she hadn't seen in years, so it was a happy event for her. This was her second birthday party last week.
—
Since the weather for the second weekend in September looked pretty good, June Clark took off on her motorcycle-sidecar rig to pick up motorcycle club checkpoints. Down to Toledo for checkpoint, Newport for fabric, Yachats for checkpoint, Florence for fabric, Coos Bay for the evening and breakfast at her favorite place. Then off for the last checkpoint at a meat market and cafe in Cave Junction and a quick return up Interstate 5. Can you tell she's a quilter as well as a motorcyclist?
—
Judy Guida and a friend took an Alaskan cruise from Sept. 12 to 19. The weather was beautiful up there, too, so they were able to take side trips to see glaciers and other unique Alaskan sights. They went to a salmon barbecue one day, and as they were eating (inside), a good-sized bear was cleaning the grill, and not with a wire brush, either.
—
Juandeane and Skid Skidmore's daughter Teresa Furutani came up from Los Angeles to spend four days with them. Among other things, Jeandeane and Teresa tried out a new recipe for truffles, which will possibly be included in the Pedee Women's Club candy inventory for their Holiday Fair the second Saturday in November. Club members started making their candy this week for the event.
—
This Saturday, Pedee Church is sponsoring a community cider-making party at the church at 2 p.m. Bring clean apples (if you've got them), minus the worms, and some containers for cider. We'll have a potluck meal to share and press apples until we run out.
—
Norm and Donna Baldwin's missionary daughter, Suzy Balwin-Noutehou, and her husband, Fidel, have been home on furlough since May and returned to Benin, Africa, last week. This was Fidel's first trip to the U.S., and he got the grand tour since they spoke at churches in several states. They are missionaries to the Pendjari region of Benin.
More like this story