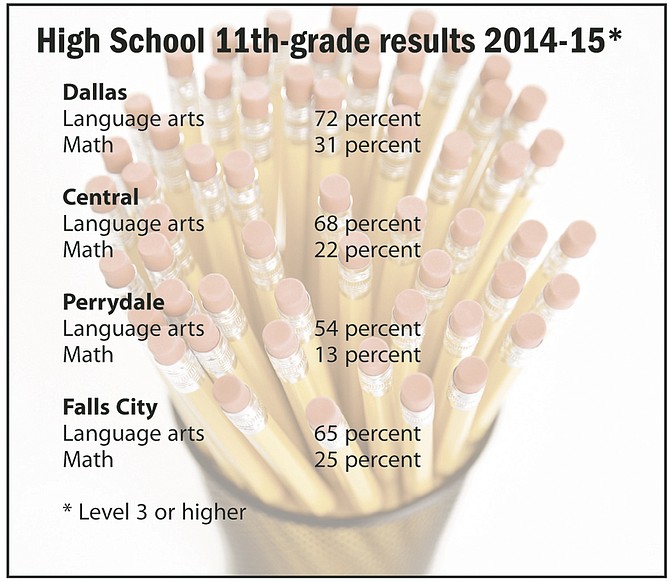 POLK COUNTY — Student performance on the new Smarter Balanced assessments revealed some encouraging numbers, areas needing work on — and lost data — for local school districts.
Schools across the state administered the new test, which was more difficult and in a new format, for the first time last spring.
The state released the complete data on Sept. 17.
As expected, all school districts have work to do to get their students to the "college and career ready" levels that are the new achievement benchmark on the Common Core-based test.
Test scores fell into four categories, with level 4 being the highest and level 1 the lowest. Students earning level 3 and 4 on the test are considered "college and career ready" for their grade level. Those earning level 2 or lower are behind. Statewide, students achieved a level 3 and above at a 54 percent rate for language arts and at 41 percent rate for math.
"It gives us some good data to work with, for sure," said Perrydale Superintendent Eric Milburn of the first set of results.
Perrydale appears to have fallen victim to what Milburn hopes would be a first-year glitch. The state apparently lost school's fifth-grade math test data.
"I know for a fact that we did (take the test), but it's not there," Milburn said. "They can't find any data proof."
The issue had Perrydale miss the state's testing participation target of 95 percent. With the missing scores it is at 84.4 percent.
In spite of that snafu, Milburn said he was pleased with the scores.

"In comparison with the state, we did fairly well," Milburn said.
Perrydale's scores were above of the state average at most grades, though there was one notable exception: 11th grade math.
Last year's juniors only scored a level 3 or higher at a 13 percent rate. Milburn explained that many had already demonstrated achievement of essential skills required for graduation before taking the test. He said, for some, it was hard to take the test seriously under that circumstance.
While it's hard to measure progress year to year with a new test, Central School District appears to have its work cut out for it. Students exceeded the state average for level 3 and 4 in high school language arts, with a 67.5 percent rate. Central Superintendent Buzz Brazeau noted the older students had little time to conquer Common Core standards.
"The older kids, they did well in language arts, but they struggled a bit in math," he said.
Only 22.4 percent of juniors scored at a level 3 or higher.
That doesn't mean that nearly 80 percent of Central's seniors are at risk to not graduate. Keeping in line with state law, the State Board of Education adopted a separate set of scores for graduation requirements: level 2 on the math and reading test, and level 3 on the writing portion. That was necessary because Oregon is required to notify students when they are in eighth grade what is required for graduation.
If they miss those marks, students can provide work samples to show achievement of "essential skills" in reading, writing and math to qualify for graduation.
Dallas School District saw scores hovering around state averages at most grades and much better than expected based on field testing of the assessment before Smarter Balanced went statewide.
"We know we have a lot of room to grow," said Steve Martinelli, the district's director of instructional services. "We are looking to continue to try to grow in the mathematics."
Last year's group of seventh graders trailed the rest of the state in language arts and math by a significant amount, following a pattern since third grade. Martinelli said the district staff will be taking a deeper look at the data to help those students.
"It's a concern that we know that and we haven't been about to close that gap," Martinelli said.
With its smaller class sizes, Falls City's assessment scores are often volatile. This year was no exception.
Last year's juniors scored close to the state average in language arts, though all other grades in both math and language arts fell short.

Superintendent Jack Thompson said comparisons to last year are difficult, but that doesn't mean he's pleased with the results.
"Not even close," he said.
He said the district has in the last two years adopted new Common Core-based curriculum and that should help in future years.
Thompson said he's hoping the new test will provide similar details about how students performed on certain parts as Oregon's former assessment, OAKS. He said that information was used to tutor students.
"That was (valuable) information," he said. ""Ultimately, it (the test) needs to be something that we can use in the classroom."
For more information or to look at the results: www.ode.state.or.us.