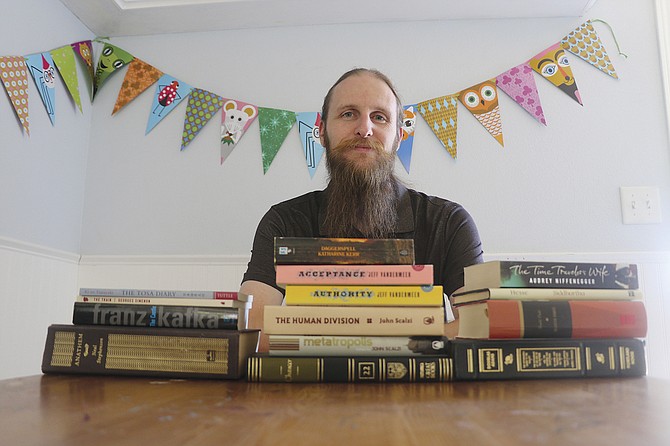 DALLAS — From Susan Cooper to J.R.R. Tolkien to Anne McCaffrey, the world of science fiction and fantasy has inspired Dallas author Stewart Baker since he was a young child to ask one simple question.
"In general, my ideas come from asking, 'what if …?' questions and then coming up with people whose lives would be changed by them," Baker said.

Now, one "what if" has become reality.
Baker has been chosen as a quarterly winner from a group of eight finalists in the Writers of the Future Contest.
"To be honest, I was a little surprised," Baker said. "It was actually the last quarter I was eligible to enter and almost all my other entries to the contest were rejections. I found out I was a finalist when Joni Labaqui, the contest administrator, gave me a phone call. My wife told me my phone was vibrating in the other room and I almost didn't bother answering it. Fortunately, she made me."
A few weeks later, Baker found out he had won first place.
"I'm honored that they chose my story, and thrilled," Baker said. "The way the judging works, only a few of the judges read stories each quarter, so I don't specifically know who read my entry, but to see names like Nnedi Okorafor and Nancy Kress and Larry Niven on there and know they might have chosen my story out of all the others is an amazing feeling."
His win earned him a cash prize, a trip to Hollywood for a week-long writing workshop, an awards ceremony and having his short story published in the annual anthology, "L. Ron Hubbard Presents Writers of the Future."
The contest, now in its 32nd year, attracts entries from around the world. Twelve quarterly winners are chosen, with first place entries earning $1,000.
Of the four first-place winners, one will receive the Golden Pen award during the annual awards show, which comes with a $5,000 prize.
Judges include several notable authors, including Orson Scott Card and Tim Powers.
The contest is open to any novice writer who has not professionally published more than three short stories or one novelette or novel.

Since his story is in contention for the Golden Pen award, Baker is unable to share the title or plot of his story, but he is already excited for what the future will hold and to see what his next "what if" will lead to.
"I'm working on a few short stories, including one that will be interactive (web-based, with elements the reader can change as they read), and I write haiku pretty regularly," Baker said.