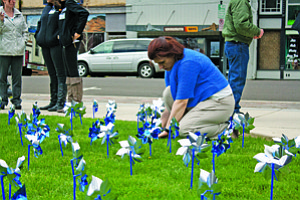 ODA looking for people to volunteer
SALEM — The Oregon Department of Agriculture is seeking to fill "public member" vacancies on seven of the state's 23 agriculture and commercial fishery commodity commissions.
You don't have to be a farmer, rancher, or fisherman. In fact, it is required that you are not directly associated with the production or handling of that particular commodity.
Public members work alongside producers and handlers, those who are first purchasers of the commodity, on each of the commissions.
All commission members must be able and willing to convene four to seven times a year with meetings that can take from three hours to all day. It's a volunteer position with reimbursement for travel and meals associated with meetings.
Public members are needed on the following commissions: albacore, dairy products, hop, ryegrass, salmon, trawl, and wheat.
For more information: http://www.oregon.gov/ODA/programs/MarketAccess and click on Oregon Commodity Commissions or call Commodity Commission Program Manager Kris Anderson at 503-872-6600.
File 2015 tax returns to receive kicker
SALEM — There will be a "kicker" issued for this year, but there won't be any kicker checks issued as there have been in the past.
A more than $402 million tax surplus was confirmed by the Office of Economic Analysis during the first week of October 2015.
The surplus triggered a tax surplus credit, or "kicker," for the 2014 tax year.
To claim the kicker, you must file a 2015 tax return. To calculate the amount of credit, multiply your 2014 tax liability before any credits, except credits for taxes paid to other states, by 5.6 percent.
Detailed information on how to claim your credit will be in the 2015 Oregon personal income tax return instructions.
For more information: www.oregon.gov/dor.
Free electronic tax filing available
SALEM — This year's tax return filing deadline of April 18 is fast approaching, but there are still options for free electronic filing of returns and other help.
Oregon's Department of Revenue recommends e-filing and asking for direct deposit to get your refund fast. The agency's website identifies several providers of free online tax preparation software and e-filing services for taxpayers with income less than $62,000 in 2015. For more information about options, look for "approved vendors" at www.oregon.gov/dor/e-filing. Make sure you start your return from the Department of Revenue's website to ensure free filing.
AARP's Tax-Aide program and Creating Assets, Savings and Hope (CASH) Oregon offer free, in-person assistance to taxpayers at sites across the state. They can help with both preparing your return and e-filing it.
For more information about services and service locations, visit the Tax-Aide and CASH Oregon websites using the links at www.oregon.gov/dor/e-filing.
Sheriff gets speed enforcement grant
POLK COUNTY — The Polk County Sheriff's Office has been awarded a $4,000 grant from the Oregon Department of Transportation (ODOT).
This traffic safety grant will focus on speed enforcement. The grant began on March 1 and will continue through Oct. 5.
This funding will be used to continue the Sheriff's Office commitment to providing programs and services that focus on the safety and security of the highways in Polk County.
In 2014, there were 15 speed related fatalities and serious injury crashes on highways in Polk County.
Speed was rated as one of the top five errors leading to crashes in Oregon for 2014. The primary goal of this grant is to focus on speeding, which will be accomplished through education and enforcement.
Funding for the grant was provided by the Oregon Department of Transportation.
Dallas' MAK Grills earns fifth Vesta
DALLAS — MAK Grills, manufacturer of high-end wood pellet smoker-grills, received another Vesta Award while attending the recent Hearth Patio Barbecue Expo in New Orleans.
The Dallas company's soon-to-be released portable pellet grill, the MiniMAK won the honor.
The camp grill incorporates Thermocue technology, which uses a thermoelectric generator to create an electrical current from the heat produced by the grill. The grill can be used in remote areas without needing to plug into standard electrical power.
Vesta Awards were created by Hearth & Home magazine to recognize companies for their innovation in product design and technology.
Trade food for fines starting Monday
MONMOUTH/INDEPENDENCE — The Independence and Monmouth public libraries will celebrate National Library Week with a food for fines drive.
For each item donated, the library will reduce outstanding fines by $1. All items must be commercially processed, factory sealed, dent and rust free, and bear an expiration date. No ramen products can be accepted.
All food will be donated to the Ella Curran Food Bank.
The program runs from Monday through April 16.
The libraries will accept food from people who do not have overdue fines.
For more information: Independence library, 503-838-1811; Monmouth library, 503-838-1932.