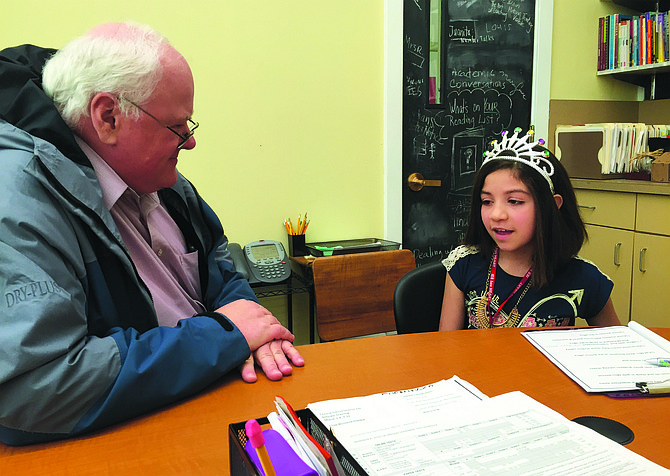 INDEPENDENCE – Isabell Garcia-Becerra walked the halls of Independence Elementary School on Friday afternoon. She passed a line of students waiting to return to their classroom.
"Be quiet or the Princess-ipal will take you with her," their teacher cautioned.
"Hi Princess-ipal!" students said and greeted Isabell with a hug or a high-five.
Isabell, second-grader, was principal for the day at IES.
"I've been doing a checklist," she said. "I had to get ready for the assembly to tape our gym teacher to the wall, and go over my daily calendar."
Tape the gym teacher to the wall? A second-grader in charge of the school? What's going on at IES?
"She earned the privilege of being principal for the day," said Sharman Ensminger, usual principal at IES. "She earned $500 out of a total of $9,252 for our jogathon."
That was the most anyone raised for the annual event, Ensminger said. This is Isabell's second year in a row taking the top prize for her fundraising efforts.
"We thought it would be really fun to call her 'princess-ipal' and give her the tiara," Ensminger said.
Last year as principal for a day, Isabell said she participated in a pizza party and handed out birthday pencils. A year older — and nearly to third grade, Ensminger pointed out — she has a lot more responsibility.
Isabell had to go with the custodian and help with safety inspections.
"I had to check the hallways, the restrooms, and then the fire extinguishers, the front door lock — to make sure it still worked," she said. "I had to go through the first aid cabinet, and I did look at the safety hazards on the playground."
After careful inspection, she found IES in compliance with all regulations, Isabell said.
It being April Fools' Day, some fifth-graders thought it would be fun to cover Ensminger's car windows with Post-it notes. Isabell said she, Ensminger and Superintendent Buzz Brazeau had to address the vandalism.
"They didn't think they'd get caught," Isabell said. "Then Mrs. Ensminger brought them down as if they were in trouble."
Once the students realized they had been caught, but administrators had a sense of humor, they all started laughing, Isabell said.
Catching students playing April Fools' jokes was the best part of the day.
"It feels like today was part of my weekend," Isabell said. "Like a three-day weekend."
Though she knows it's not always so easy to run the school, noting that Ensminger "has to work a lot."
After spending a day in Ensminger's shoes, Isabell said it is one thing she will consider being when she grows up.
"I want to either be a principal or a teacher or a gymnast, because I'm really good at gymnastics, or a basketball player," she said. "I've done every single one a lot."
If she were principal all the time, Isabell's first proclamation would be no homework.
"Ice cream for lunch," she added. "And recess whenever you want. It would be a free world. You don't need to learn, you can just relax."
Later on the playground, she said she couldn't eat lunch with a friend because "I'm not principal every day. I have to do math."