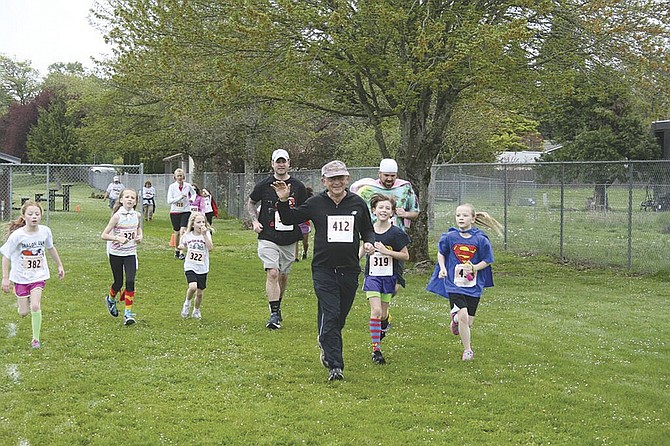 Pow Wow returns to WOU Saturday
Western Oregon University will host the 23rd annual Pow Wow Saturday from noon to midnight at the Pacific Room in Werner University Center.
There is no cost to attend. All ages are welcome.
The first grand entry will take place at noon. Second grand entry is scheduled for 7 p.m. There will be a dinner break from 5 to 7 p.m. Free dinner will be provided.
For more information: 503-838-8403.
Board holds Arbor Day celebration
The Monmouth Tree Advisory Board will hold an Arbor Day Celebration at Main Street Park Saturday at 9 a.m. Monmouth will be recognized for 14 years as a Tree City USA. After the presentation, volunteers will plant 25 new trees in two locations: Jackson Street East and Monmouth Avenue South. Volunteers are needed to help with the tree planting.
For more information: Mark Fancey, 503-751-0147.


Gem and Mineral Show ready to rock
The Gem and Mineral Show hits the Polk County Fairgrounds Friday through Sunday.
Admission is $2 for adults. Children 12 and younger are free.
The show runs from 9 a.m. to 5 p.m. on Friday and Saturday and from 10 a.m. to 4 p.m. on Sunday.
A kids treasure hunt will be held Saturday at 1 p.m. An oral auction is scheduled for Sunday at 2 p.m.
For more information: www.business.dallasoregon.org/events/details/gem-mineral-show-1748.
Montessori to host free book event
Monmouth Montessori School, 1140 Main St. E., Monmouth, will host a free book event Saturday from 10 a.m. to noon. Everyone who attends will leave with a free book. There will be books for adults and children of all ages. First book is free. Additional books may be purchased with cans of food for a food drive or a donation to the school.
There will also be a kid's craft table, homemade crafts for sale and a spinning prize wheel.
For more information: 503-838-6478.
Free tutoring for middle schoolers
Free tutoring for middle school and high school students will be available every Thursday at "Hotdogs, Hoops and Homework" at the Church of Jesus Christ of Latter-day Saints, 1401 SW 13th St., Dallas.
Help for homework, chili dogs for eating and a basketball court to shoot some hoops after will be available from 5 to 8 p.m. There is no charge.
For more information: Nona Springer, 503-917-9822.
Master Gardeners to host meeting
Polk County Master Gardeners will hold its meeting Wednesday (today) at 7 p.m. at Trinity Lutheran Church, 320 SE Fir Villa Road, Dallas.
The meeting is free and open to the public.
Al Shay, landscape designer, teacher and overseer of the Oak Creek Center project at Oregon State University, will be the presenter. Shay focuses on expanding people's understanding of how plants impact lives every day.
Refreshments will be served, and door prizes are available.
For more information: 503-623-8395.
Bluegrass Music Jam set for Friday
The monthly Bluegrass Music Jam will be held Friday from 7 to 10 p.m. in the Community Building at Faith Evangelical Free Church, 2290 E. Ellendale Ave., Dallas.
There is no charge to attend. All are welcome to listen or participate. Bluegrass instruments only.
For more information: Steve, 503-399-6114.
Youth wrestling to sell flower baskets
Dallas Mat Club and LaCreole Middle School wrestling will sell hanging flower baskets throughout April to be delivered in time for Mother's Day.
The fundraiser offers 10- or 12-inch hanging flower baskets with geraniums and various annuals. Money raised from the fundraiser will support youth wrestling in Dallas.
For information: Misti, misti.lind@gmail.com.
Senior Center to host Victorian Tea
Monmouth Senior Center will host a Victorian Tea on April 20. Tickets are available now. Serving times are noon and 2:30 p.m.
The event highlights models form the senior center. Tea and finger foods will be served.
Proceeds from the event benefits the Friends of the Monmouth Senior Center, general fund.
Historical Society to host open house
The Polk County Historical Society will host an open house at the Historical Harrison and Emily Brunk farm home, 5705 Salem-Dallas Highway NW, Saturday from 9 a.m. to 3 p.m. The event is part of the Blossom Drive, which chooses a variety of places to visit in the West Salem and Eola Hills area.
The Brunk House is the first stop on the drive. The 1861 two-story home is filled with original furnishings. Informative tours and cherry desserts will be available.
For more information: Polk County Museum, 503-623-6251.
Dallas artist Rupp featured at library
The work of acrylic painter and Dallas resident Jim Rupp will be showcased through April at the Dallas Public Library, 950 Main St., Dallas.
He paints on a multitude of surfaces ranging from canvas to wood. His subject matter is also varied. His paintings include farm scenes, natural landscapes, and birds. Many of his paintings are for sale, as well as prints and cards he has made from his paintings. A portion of proceeds from sales will be donated to the library. Ask library staff for assistance to buy a piece.
For more information: 503-623-2633.
Vintage video game consoles on display
The Dallas Public Library collections case will display a selection of vintage video game consoles through April. David Wales provided the unique collection, which he started compiling about three years ago.
His collections includes 35 consoles, hundreds of game guides, games and accessories.
The items on display include a 1980 Mattel Intellivision, 1975 SuperPong, 1989 Gameboy with printer, and a 1979 Magnavox Odyssey2. 
For more information: 503-623-2633.
Satirical musical Friday at Pentacle
Pentacle Theatre will stage "Urinetown: The Musical" from Friday to May 7.
The show is a satirical look at power, capitalism, bureaucracy, populism and politics — and the musical as a theatrical form — when a 20-year drought causes a terrible water shortage, making private toilets unthinkable for the town's residents.
The unconventional show features music by Mark Hollmann, lyrics by Hollmann and Greg Kotis, based on a book by Kotis.
For more information or to buy tickets, go to http://pentacletheatre.org.