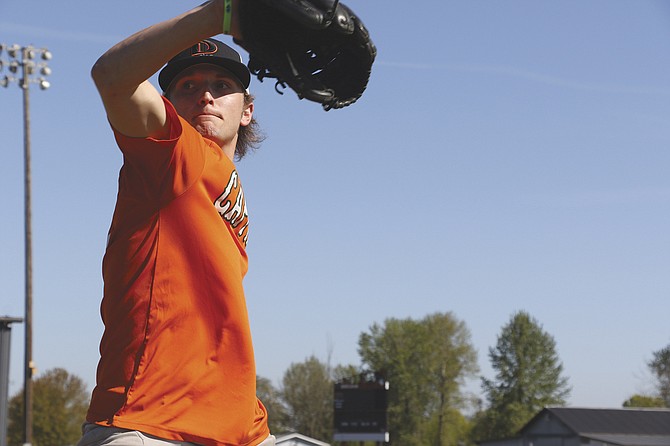 DALLAS — For Dallas senior Tucker Weaver, there's no time quite like the start of baseball season.
"It's what I wait for seven months out of the year," Weaver said. "February comes and it's time to get ready for tryouts. Then, we have a couple of weeks of practice and get to the season, then league play. After that there's summer ball and when that wraps up, you watch the end of the MLB season. It's the most wonderful time of the year."
This year, Weaver has stepped into the Dragons' No. 1 starter role on the team's pitching staff.
"I put it on myself to pick up the slack and take that role," Weaver said.
He has certainly picked up the mantle well.
Despite falling to Woodburn 1-0 on April 5, Weaver was impressive, throwing 12 strikeouts, while allowing only two hits and no earned runs.
He threw 14 strikeouts during a 5-1 win over Lebanon on March 29.
"I learned to keep my pitch count down and be as efficient as possible," Weaver said. "... The big thing is location. When you hit your spots, even if they're swinging, they're going to hit at somebody if you're doing it the right way."
Dallas, which beat Woodburn 1-0 on April 6 and 5-2 on Friday, entered the week with a 5-1 start in Mid-Willamette Conference play, tied for first place with Crescent Valley.
The Dragons opened a three-game series with the Raiders Tuesday after press time — a critical test in league play.
"We're trying to stick with swinging the sticks and doing the little things right," Weaver said. "We can compete with anybody and get a chance to beat anybody when we do that. It's about getting those things down."
As Dallas looks to gain sole possession of first place in the MWC, Weaver said the Dragons have shown a lot of improvement since the start of the season but they're not even close to reaching their potential.
"We've come out with a bit more energy in the clubhouse," Weaver said. "It's good to have a devoted group like this. We have a lot of guys who aren't afraid to get after it and pick each other up. We're building and that's what's going to help us progress in the next few weeks."