Janssen named distinguished educator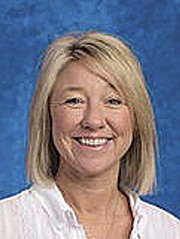 DALLAS — LaCreole Middle School behavior specialist Julie Janssen is Dallas School District's Distinguished Educator for March.
Janssen was presented the award during an all-school assembly at LaCreole on April 13. She was nominated by colleague Rhonda Hays.
"She is nothing short of exceptional at whatever she does," Hays said. "There are no limits to Julie's creativity as she finds ways to offer support to our students."

Students and other colleagues agreed, saying "She is a considerate person and does her best to take care of people," and, "She's amazing!"
The Distinguished Educator Program recognizes "excellence in teaching and learning" in Dallas School District schools.
Districts holding kindergarten sign-ups
POLK COUNTY — Falls City, Perrydale, Dallas and Central school districts will hold kindergarten registration fairs on April 30.
Registration fairs are held so parents and future kindergartners have a chance to meet the kindergarten teachers, visit the schools and get a sense of what kindergarten will look like.
Parents/guardians of children that will be 5 years old by Sept. 1 are encouraged to sign up for kindergarten at their district's fair.
Registration fairs will be held at the following times and locations:
• Central School District 10 a.m. to 1 p.m. — Henry Hill Administrative Office, 750 S Fifth St., Independence, 503-838-0030.
• Perrydale School District 10 a.m. to noon — Perrydale School, 7445 Perrydale Road, Amity, 503-835-3184.
• Falls City Elementary School 2 p.m. to 4 p.m. — 111 N. Main St., Falls City, 503-787-3521 ext. 201.
• Dallas School District 10 a.m. to 2 p.m. — Oakdale Heights Elementary School 1375 SW Maple St., Dallas, 503-623-8316; Lyle Elementary School 185 SW Levens St., Dallas, 503-623-8367.
Parents/guardians should bring their child, proof of their child's age, and immunization record if possible when registering. If you do not have these items, you are welcome to register anyway. The schools will help you obtain these documents.
Talmadge sponsors annual health fair
INDEPENDENCE — Talmadge Middle School, 51 S. 16th St., Independence, will sponsor the 10th annual Community Health Fair on Thursday.
The health fair will run from 5 to 7 p.m. in the gym and cafeteria. Fair includes interactive exhibits and information on dental, medical, fitness, recreation, physical therapists, chiropractic and other fitness professionals, and health care service providers in the community.
A free dinner will be available from 4:30 to 6 p.m. There is no cost to attend.
Mr., Mrs. Central pageant on Saturday
INDEPENDENCE — The Mr. and Ms. Central Pageant will be on Saturday at 6:30 p.m. in the Central High School Auditorium.
Tickets are $10 for adult and $7 for students. Tickets can be purchased from any contestant or the CHS office.
The contestants have been working all year on various fundraising activities, as well as preparing for the pageant.
All money raised goes to Cystic Fibrosis research.
For more information, contact Jeff Witt at jwitt@-central.k12.or.us.
For more school notes: www.polkio.com.
DHS to host career fair
DALLAS – Dallas High School is hosting a Career Technical Fair on Monday starting at 6 p.m. to residents 18 and older. The event will be at the high school, 1250 SE Holman Ave.
Participants will be able to attend three informational sessions, selecting from nearly 30 career and technical programs offered by Chemeketa Community College. Breakout sessions will be led by program instructors, who will provide information on the length of each program and how to apply.
High school and middle school students and parent also will have the opportunity to learn about the Willamette Promise, a program that helps high school students earn college credit before graduation.
For more information: 503-623-8336.
Daily Living Skills Center celebrates 20 years
DALLAS -- Daily Living Skills Center is celebrating 20 years with an open house on Friday from 9:30 to 11 a.m. at 1085 Main St., Dallas.
This is an opportunity to learn about the activities and classes at Daily Living Skills, Dallas High School's post high program for students with special needs. The program provides independent living and vocational skills services to students transitioning from school.

For more information, contact Betsy Miller, 503-831-0604; email to betsy.miller@dsd2.org.
More like this story