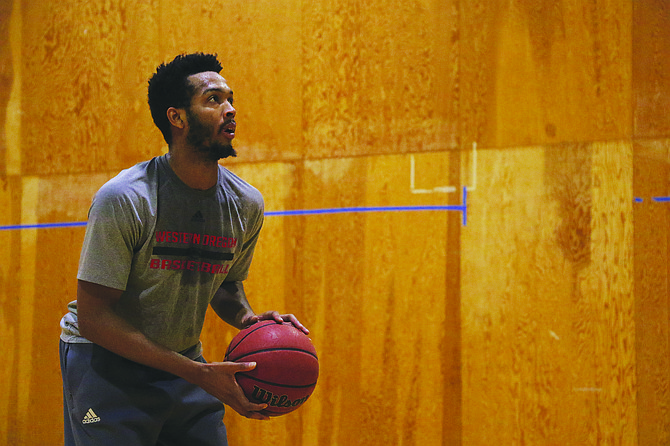 FONTANA, Calif. — Julian Nichols closed the door on his Monmouth apartment for the last time on Friday.
After two years, 54 wins and a trip to the NCAA Division II Final Four with Western Oregon's men's basketball team, Nichols returned home to California.
There, he'll face the most difficult part of chasing his professional basketball career —the wait.
—
Since the end of June, Nichols has taken part in multiple showcases, including one in Las Vegas featuring 60 to 70 players.
"My mindset was just to play hard and let the fluidity of the game come to me," he said. "Don't force anything."
He received feedback from scouts and agents in attendance, but no formal offers were made.
"I'm at the point where it's a waiting game," Nichols said. "I don't stress out at all about this part of the process. I can only control what I can control. Everything else really isn't up to me. It's just a matter of someone taking a chance on me now."
While he waits, he's returning to his hometown of Fontana, Calif. Don't let that fool you into thinking it's a sign of resignation.
The move back to California officially closes a chapter of his life — saying good bye to Western Oregon.
"The people around Monmouth, when you go to Subway or Yang's or Koyotes and people come up to you, and you see the coaches everywhere, I miss that segment of it," he said. "The community came together and it was bigger than basketball at that point. I'll never forget about Monmouth."
After plans to take Sunday through Tuesday to settle back in and Nichols will be back in the gym Wednesday (today) after a brief break from his 14-hour drive south.
"I'll be ready to go whenever I get called," he said. "I'll continue to climb. I don't see myself losing at the next level. I do see success."
Nichols believes there are some real possibilities of several different professional leagues — though he's not quite ready to share the details with the world just yet. But he is hopeful he'll get a call soon.
"People can see what I did at Western and what I've been able to do at these showcases," Nichols said. "I want to play at the highest level possible, and they'll see I give my best every time out."
For now, professional basketball remains just out of reach. Nichols isn't frustrated, though. He's just waiting for his chance — and like when he arrived at Western, he's ready to make the most of it whenever it comes.
"I want people to know that wherever I'm at, I'm not going to lose sight of the bigger goal, and that's getting to the NBA," he said. "To go 23-7 at Western my first year and then 31-4, at the end of the day, they know Julian wants to win, and Julian wants to play at the highest level, and that's that."