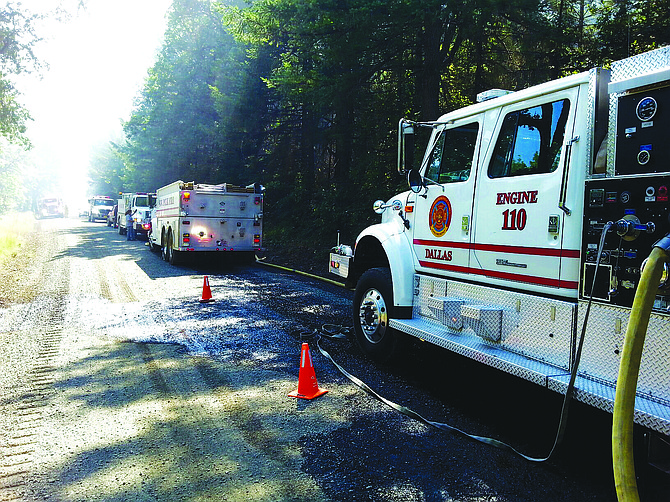 FALLS CITY — Firefighters prevented a grass fire from damaging homes outside of Falls City on Aug. 3 with a multiple-agency response — and a little luck with the direction of the wind.
At 2:56 p.m., fire agencies were called to "high risk grass fire" in a pasture off Liberty Road near Falls City.
The 911 caller said he was working in the field when the equipment he was using hit a rock and sparked the blaze. Strong winds and dry conditions didn't help matters.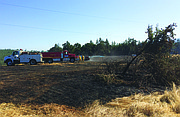 "It got out of control before he could do anything about it," said Dallas Fire & EMS spokeswoman April Welsh.
Welsh was one of the first to arrive on the scene and said crews from as far away as Corvallis and Salem rushed out to help.
The fire was under control by 4:30 p.m., and firefighters switched to "mop up" duty, extinguishing hot spots and monitoring the area.
Falls City Fire Chief Bob Young said his biggest concern with the fire was the strength of the wind. He said a number of houses nearby could have been threatened depending on the direction of the breeze.
Thankfully, the wind was blowing in the opposite direction.
"We got lucky," he said.
Welsh said the fire burned between six and eight acres of pasture and a small section of oak forest.

Fire crews from Falls City, Dallas, Southwest Polk, Polk No. 1, Amity, Corvallis, Salem and Oregon Department of Forestry responded to the fire.
The Polk County Sheriff's Office was on standby to assist with evacuations had they been necessary.
Polk County Public Works and the sheriff's office closed Liberty Road while firefighters put out the fire.
While major damage was averted, Welsh said it is important to keep in mind summer conditions when working outside.
"It's a good reminder that when people are working in their fields — in the heat of the day when it's warm and windy — how fast a fire can start and get away from you," she said.
She suggested, if possible, working in the early mornings when temperatures are cooler.

"Thankfully, we got a quick stop and it didn't damage any homes," Welsh said.