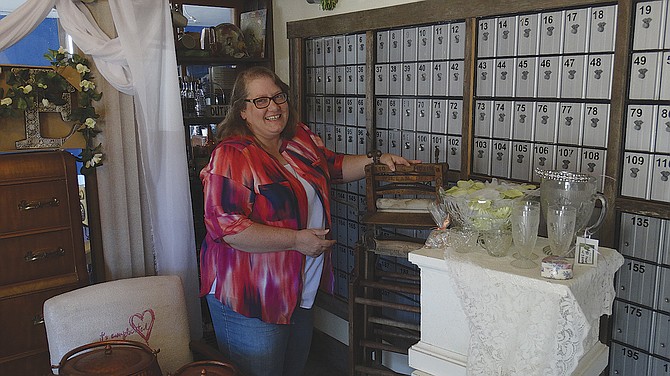 MONMOUTH — Need shipping? Tablecloths for a family party? Decorations for that wedding or baby shower?
How about a quick gift shipped to a friend across the country? Or a personal mailbox?
Fee Mail
Where: 169 S. Broad St., Monmouth.
Hours: Monday-Friday, 10 a.m. to 6 p.m.
Fee Mail on Broad Street in Monmouth has you covered.
"We're kind of the town's personal assistant," said manager Traci Weston. "You have to pay us, but we're cheap. We care. We have whatever you need done."
The business fills a gap in Monmouth and Independence, from UPS and FedEx shipping to getting a copy made or sending a fax, Weston said.
Stepping into Fee Mail doesn't feel like walking into a shipping store, with furniture and knickknacks arranged around the shop. Weston has six local vendors offering their arts and crafts for sale in the shop.
"We're helping local people make money so they can keep it local," Weston said. "The ladies who sell their stuff are all from the area. This is how they make money. They can still sell their products online, or you can walk in and buy it."
The combination shipping and handmade arts and crafts means someone can touch and feel a product before buying it — unlike online shopping websites. Often the artist or crafter is available to meet at the store and talk with potential customers in person.
Weston coordinates Toys For Tots for Benton and Polk counties each year, and will make Fee Mail the headquarters for the annual toy drive. Coming from a nonprofit background, Weston has used her new job to find other resources for those in need.
"We had a young lady come in and say, 'We're going to be homeless; we need to rent a private mailbox,'" Weston said. "I referred her to several agencies, but I was still frustrated, so I put it out there on Facebook saying, can anybody help."
Another time, one of her vendors needed a boost in income to move to a new house.
"She wasn't asking for a handout," Weston said. "She said, 'I make stuff. I sell stuff. Come shop.' So I waived my commission for that time period knowing that she needed last-minute help."