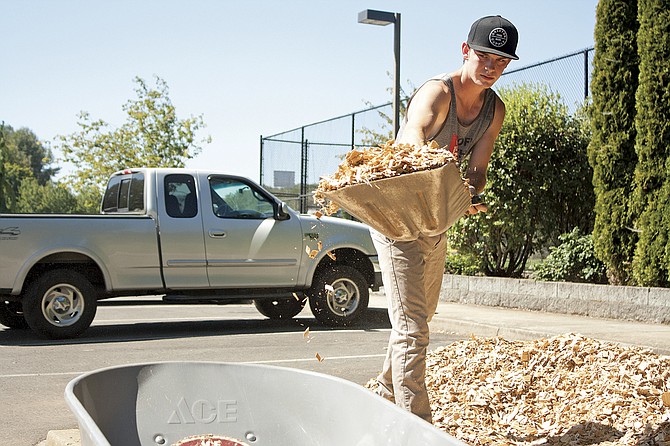 DALLAS — Perry Todahl works by himself Aug. 24 afternoon spreading wood chips along the back side of the Dallas Skate Park.
It's a hot afternoon, so he doesn't blame others who volunteered to help for going swimming instead.
Todahl, 19, is on a mission to clean and take care of the park, so hot weather wasn't going to deter him.
"I'm down here often, almost daily," he said. "There been a lot of complaints about it being dirty."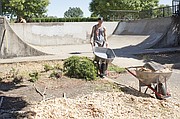 He said skaters have said that if their boards fly over the edge of the concrete on the side of the park, they would land in a muddy puddle.
He's heard skaters would like to see the park expanded, something he would like to see too. He believes taking care of what is there now will help in that objective.

"It's nice for the city to see not everybody neglects it," he said.
Far from neglecting the skate park, Todahl has "adopted" it.
He contacted the city to express his frustration about the appearance of the park — and to offer his time to improve the situation.
Mike Sonday, a public works maintenance worker, said the city often has citizens adopt parks, volunteering to pick up trash and take on other improvements.
Sonday said Todahl has another objective in mind: being a role model to other users.
"He's trying to improve the reputation of the skaters by taking responsibility," Sonday said.
Twice a week, Todahl picks up trash at the park, especially around the trash can that quickly overflows.
"Litter is a huge problem down there," he said. "If it's clean, it's less likely that other people will throw garbage on the ground."
Adopt a Park
What: Dallas adopt-a-park program.
Where: Any of the city's parks are ready for adoption.
How do I do it? Call the city's administrative department to volunteer 503-831-3502.
What does it mean? Adopting a park could mean simply volunteering to take on litter patrol or other improvements.
Sonday said Todahl has worked hard to keep the park looking nice.
"He's doing great," Sonday said. "He's right on task."
Wednesday and Thursday that partnership continued with the city providing wood chips for Todahl to fill in what turns into a skateboard-swallowing muddy trench.
Working in the heat of the afternoon, he shoveled wood chips into a wheelbarrow and spread them in a 6-inch layer over the trench.
Sonday said he thought the project would be a win-win for the city and the users.
"That helps with weeds and it will help you guys and make it more enjoyable," Sonday said.
Todahl is hoping that projects such as this could lead to something more in the future.
"Keeping it clean and making it look nice might make the city more inclined to help out (with expansion or improvements)," he said.