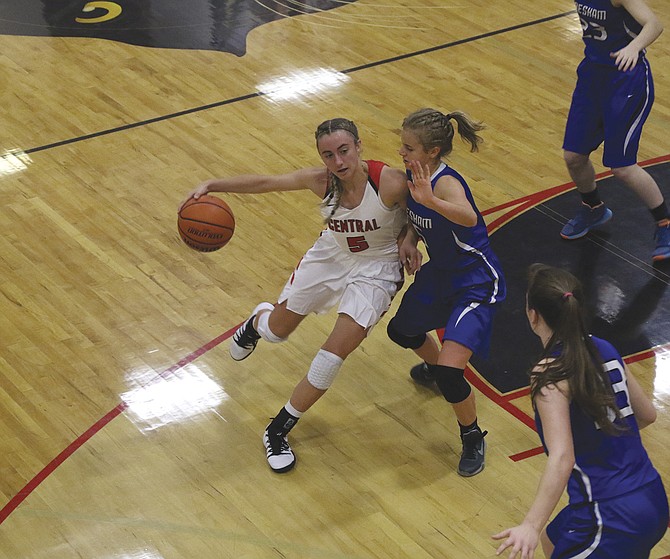 INDEPENDENCE — For much of the first half of its season-opener against Gresham, Central's girls basketball team seemed tense.
The Panthers came through when it mattered most, outscoring Gresham 10-2 in the fourth quarter to post a 36-30 win on Nov. 30.
"They were excited to get their first game under their belt," coach Julie McDonald said. "You're never quite sure where your team is at when you are practicing against yourself. It's good to see what you have to work on, what they did well and move on from there. I thought they really settled down in the second half."
Annika Riddell scored a game-high 14 points, while Meagan Mendazona added nine points and 10 rebounds.
The Panthers also defeated St. Helens 47-30 on Friday.
Mendazona and Elizabeth Chavez each scored 13 points.
"We have a really good shooting class," McDonald said. "We didn't knock down some shots from the outside (against Gresham), but they can. We have a lot of different scorers to look to each night."
Central played Grants Pass Tuesday after press time. The Panthers host Summit Tuesday at 7 p.m.
BOYS BASKETBALL DEFEATS NORTH EUGENE: Central's boys basketball team opened the 2016-17 season with a 61-27 win over North Eugene on Nov. 30.
"The kids came out with a lot of energy and caused some early turnovers, which allowed us to pick up a few quick points," coach Tim Kreta said.
Alec Barba scored 12 points to lead the Panthers. Jesse Cable added 11 points.
Central played Liberty Tuesday after press time. The Panthers host Philomath Friday at 7 p.m.
WRESTLING TAKES THIRD: Central's wrestling team finished third at the Tillamook Country Smoker on Friday. The Panthers scored 121 points, behind Tillamook (161) and Willamina (159½).
Noah Worthington (106 pounds), Sam Crow (195) and David Negrete (220) placed first to lead Central.
Chris Polanco (170) finished second, and Manuel Martinez (120) took third.