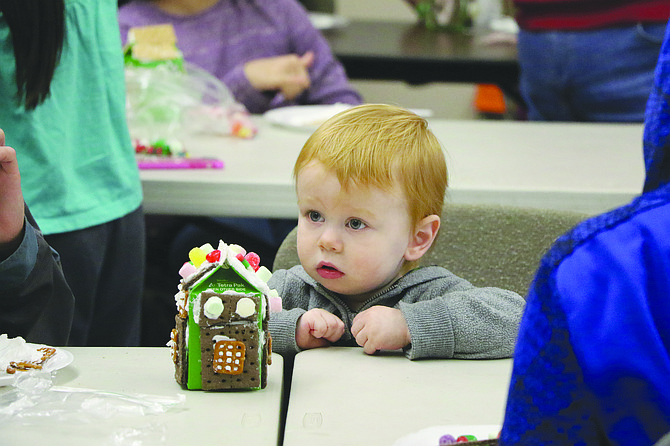 Salem choir comes to Monmouth
The Salem Community chorus will hold its holiday concert Sunday at 3 p.m. at the Methodist and Presbyterian United Church, 412 Clay St. W., Monmouth.
The chorus is directed by Anna Robinson and accompanied by Adam Robinson.
There is no cost to attend. The chorus has 60 members, including eight from Polk County.
Light refreshments will be available after the concert.
For more information: 503-838-3777.
Church to host advent lessons
St. Thomas Episcopal Church, 1486 SW Levens St., Dallas, invites the community to attend service at 10 a.m. Sunday for Advent lessons and to sing carols. The no-sermon service will feature Celtic-inspired hymns and familiar advent hymns.
For more information: 503-623-8522.
Coffee with a Cop set for Saturday
The Grove Coffee House, 116 S. Main St., Independence, will host Coffee with a Cop Saturday from 11 a.m. to 1 p.m.
Officers from the Independence Police Department and community members will have the chance to meet in an informal, neutral space to discuss community issues and build relationships.
Coffee with a Cop is part of a national initiative aimed at building lasting connections between police departments and the communities they serve.
American Legion party Saturday
The American Legion Post No. 20 and Auxiliary Unit No. 20 will hold their annual Christmas party Saturday at 5 p.m. at Greenway Mobile Home Park clubhouse, 450 LaCreole Drive, Dallas.
There will be a potluck dinner for members.
A special report about the Oregon Home Guard in World War II will be given by Nancy Doll following the meal.
For more information: 503-623-2591.
Pressed to host Santa Claus
Pressed Coffee and Wine Bar, 788 Main St., Dallas, will host the inaugural Dallas Downtown Association Christmas Celebration on Sunday from 2 to 6 p.m.
Free photos with Santa will be available. There will also be snowflake making, cookie decorating, holiday coloring pages, hot cocoa, Christmas music and more.
Ribbon cutting for mural on Friday
Dallas Mayor Brian Dalton will perform a ribbon cutting for the downtown mural, located on the Bank of America building, 791 Main St.
The mural is sponsored by the Dallas Downtown Association with grant funding from the Oregon Arts Commission. Local artist Kev Kohler painted the mural.
Old Time Square Dance returns
The Second Saturday Old Time Square Dance returns Saturday from 7 to 9:30 p.m. at Guthrie Park Community Center, 4320 Kings Valley Highway, Rickreall.
Cost is $5 per person. Children 12 and younger are free. An immediate family rate of $15 for a family of four or more is available.
No experience necessary. All dances are taught.
Old Time squares, big circles, longway sets and waltzes will be performed. Cash & Company will provide live music.
For more information: www.guthriepark.org.
Dance recital food drive on Tuesday
The Polk County France School of Dance will hold its dance recital and food drive Tuesday at 6 p.m. at LaCreole Middle School, 701 SE LaCreole Drive, Dallas.
Students will perform tap, ballet, pointe, lyrical, jazz and hip-hop routines.
Cost is $3 or three cans of food per person and per dancer.
Students range in age from 4 years old to teenagers.
All proceeds benefit the Dallas Food Bank.
For more information: Linda France Martin, 503-390-3481.
Senior center to hold meeting
Monmouth Senior Center, 180 S. Warren St., Monmouth, will host a meeting and potluck on Friday.
A general meeting will be held at 11:30 a.m. followed by the potluck. The ukulele group The Maculeles will perform and lead a Christmas sing-along after the meal.
Dallas library book drive ongoing
Dallas Public Library, 950 Main St., Dallas, is collecting new books for children and teens through Dec. 17.
Donated books will be given to area children and teens through local nonprofits and organizations.
"Like new" books will also be accepted.
Fr more information: 503-623-2633.
More like this story