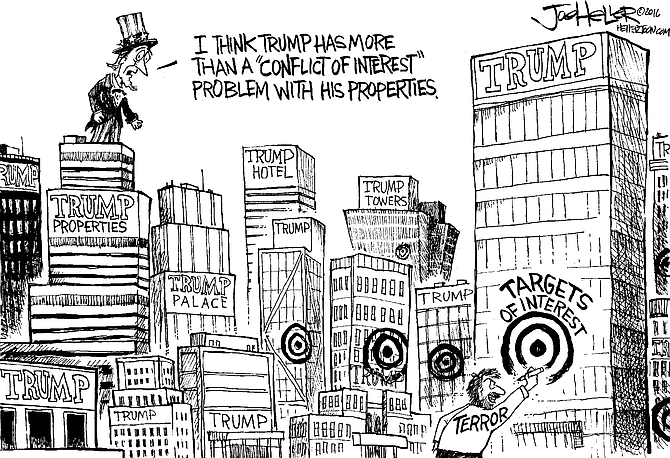 Flag burning is symbol of failure
I pledge allegiance to the Republic of the United States of America, one nation, under God, indivisible, with Liberty and Justice for All. The flag is burned at times to demonstrate the evidence of failure to maintain the principles of our country's pledge; for which it stands.
Charles Krogman
Dallas
PAC hopes to make a difference
We are working on forming a Polk County Principled Action Movement. The recent presidential election brought to light some serious issues in our society and culture. We are starting a movement to do something about one or more of the exposed issues. This movement will strive to include as much diversity as possible.
Group members will identify issues of common concern, will strive to educate themselves about these issues, discuss them, come to a consensus for action, and develop a strategy for specific action. A prime example of this is the Electoral College process.
We are looking for interested people in or near Polk County. One of the few requirements of this movement is the ability and willingness to meet face to face to discuss the ideas and develop a course of action.
We can be smarter as a group than we ever can be acting alone. We are going to provide a safe, trust-filled environment for interactive discussion of diverse and conflicting viewpoints. Trust will be the key to the success of this endeavor, hence the name "principled action."
What will our output be? One suggestion is a well-reasoned white paper on a particular issue, factually as true as possible within the constraints and abilities of the group members, with a suggested course of action. Distribution of this paper, if this is what happens, will be decided by the group.
Locating and inviting participants is underway. As soon as we have a group of sufficient numbers, we will establish a meeting time and place.
Please contact Bob Murphy, murf92279@gmail.com, if you are interested in possibly taking part in this campaign or drive.
Bob Murphy
Dallas
Hundreds fed thanks to efforts
On Nov. 22, the Ella Curran Food Bank provided 200 families with the groceries and a turkey needed to make their Thanksgiving dinner. More than 20 volunteers helped hand out the supplies. Schools, churches, Western Oregon University, businesses, Mon-Indy Green Bag project and individual donors made the project happen. This event fed more than 650 people.
Patty Nevue
Independence
Dallas Goodwill confusing prices
I frequently browse Goodwill stores from Tillamook to Albany. I feel I must speak up about the high prices at our local Goodwill. Why are the prices here so much higher than any other area Goodwill store?
The items that people donate to Goodwill are sold not only to help finance Goodwill's mission. They also provide a low-cost resource where people can buy used items they might otherwise not be able to afford.
However, browsing at the Dallas Goodwill, I often hear grumbling: "Who prices this stuff?" "I can buy this for less at Walmart — new!" Holding a paint brush priced at $2.99, another man said, "I can get the same one at the Dollar store!"
The store manger, Christie, has only been at the Dallas store for three weeks. She didn't deserve my drilling her on the pricing structure. She explained that guidelines are supplied by the corporate office, which still didn't explain why prices at the Dallas store are so much higher.
This is not fair to our community. Dallas has its share of people struggling to make ends meet: people on welfare, people without transportation, dependent on food banks, etc. — not to mention heating bills and Christmas.
Has the Dallas Goodwill lost its perspective?
I believe that Goodwill and other second-hand stores play an important role in society. Putting pride aside, we all want to stretch the dollar and provide for our families the best we can. There's no shame in that.
To me, "good will" is a collective community mind set to help others less fortunate, for balance and quality of life for all. I write this in an attempt to gain fairness, and in hope that this letter will fall before the eyes of whoever "can" or "will" make things right.
Besides, it's Christmas!
Dwain Roberts
Dallas
Dallas wrestling grateful for support
On behalf of the Dallas High School wrestling team, I would like to thank the community for their continued support of the Dallas wrestling program. We recently completed our annual poinsettia fundraiser, and we felt the support of many individuals and businesses in the Dallas community. Dallas has always supported wrestling at all levels, including youth, middle school and high school.
On Jan. 7, we are hosting the Janet Brunner Invitational wrestling tournament at Dallas High School. We invite you all to come out and watch your wrestlers.
Thank you again.
Tanner Earhart
Dallas HS Wrestling Team
Dallas