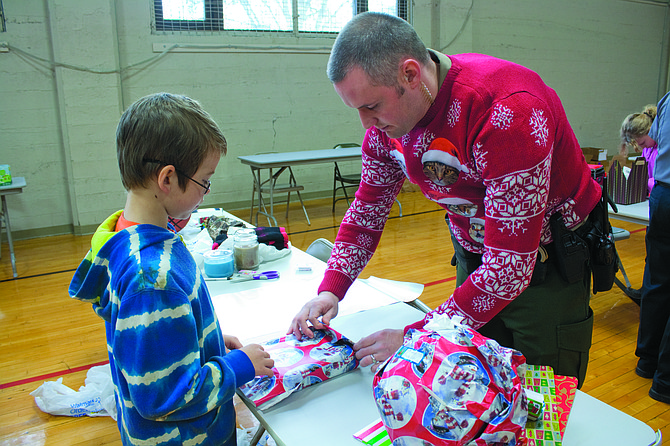 DALLAS — Walter Manley, 10, dared Polk County Sheriff's Deputy Josh Brooks to wear a bright red "ugly Christmas sweater" with cats in Santa hats on it for the rest of the day Saturday.
To Walter's surprise, Brooks bought the sweater and put it on over his uniform during the sheriff's office annual "Shop with the Sheriff" event.
"Do I get to hang out with you next year or are you too embarrassed?" Brooks asked Walter, of Falls City.
Walter smiled as he wrapped the presents he selected for his family, including something for the two dogs.
Each year, "Shop with the Sheriff" pairs sheriff's office staff with children from Falls City for Christmas shopping, paid for with a grant from Walmart. Children invited to participate are selected by school employees and the Falls City Service Integration Team, part of Polk County Community and Family Outreach.
Each child roams the aisles at Walmart to buy presents for their families. The limit is $40, but often deputies pitch in for amounts higher than that.
Deputy Marcos Ordaz-Munoz made a second trip through the check stand to buy a gift for his Falls City buddy, Ariel Dvorak, 9, who had spent her allotted amount on her mom, dad and brother.
"Her mom told her she should get something for her (self)," Ordaz-Munoz explained. "She wanted a ring."
He bought her the ring she picked out.
Saturday was the first time Ariel had been invited to "Shop with the Sheriff." Twenty-seven other children from Falls City joined her.
Detective John Williams, the office's coordinator on the project, said sheriff's employees aren't the only people who pitch in extra. Two customers donated money once they found out why the children and officers were at the store Saturday. One of them had been arrested by deputies, but appreciated how she was treated by Polk's officers. She offered $70.
Williams said he told her it wasn't necessary to give that much, but she insisted. He took the donation, with a message for her.
"You paid for two kids," he said.
Williams estimated the event started about 20 years ago.
He said the service integration team pays for snacks and gift wrap for the wrapping party at the Academy Building's gym.
"It gives the kids a great experience with an officer they haven't seen before," he said. "I get really attached (to the kids). By the time we get here, we are buddies."