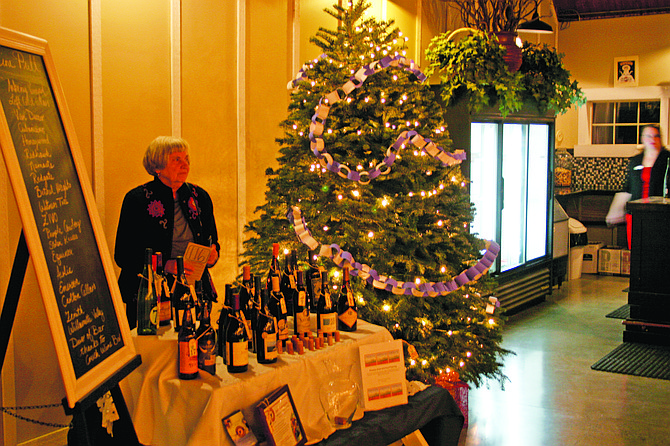 INDEPENDENCE — The 17th annual YMCA Christmas Party and Auction will be a festive event, full of food, music, dance performances, and chances to support the Monmouth-Independence Y while scoring Christmas gifts.
And if you waited to get your ticket, you're out of luck. For the first time, the auction has sold out.
"So, my first year, we had 65 people" attend the auction, said Natascha Cronin, executive director. "Last year, we had 162. This year, we're sold out."
She said she may have a few tickets left up her sleeve, but if you want in on the fun, act now.
The evening includes dinner and a no-host bar, live and silent auctions, as well as performances by the Central High School jazz band and the YMCA Inspiration Dance Company.
Instead of a "wine pull," where participants purchase a ticket and win the corresponding bottle of wine, this year people can "Fling the Ring."
"We'll have 20 bottles set up, 15 of which will be filled with wine," Cronin explained. "Five of which will be extra special — like a wine tasting for 10."
For $20, people will get five chances to toss a ring onto the desired bottle — carnival-style.
Another game is a bit more active: Superhero Ka-Pow.
"They'll put on their superhero cape, because they're saving the world, and punch through and there will be a prize on the other side worth at least $20," Cronin said.
The auction includes toys and gifts, baskets of goodies for the wine lover or car enthusiast, as well as more unusual items.
"One of our live auction items is a private, home, taco Tuesday dinner," Cronin said. "Don Poncho donated organic tortillas and chips, so I asked somebody locally if they would step in and go to someone's house and cook up a meal. And we all love tacos."
There's something for everyone at a wide range of price points, Cronin said.
"We have a bigger variety and price, so we might have a $5 item, and we might have a $300 item, but they're not all $300. Just like at the Y, everyone gets to play — and win."
All money raised stays to support Monmouth and Independence families.
The annual auction has turned into the biggest fundraiser for the Y in the Marion-Polk area — raising more money for local families and kids than Salem's Buckaroo Ball, Cronin said.
"This community raises more money than Salem does," Cronin said.
Last year, the auction brought in more than $20,000, more than double the year before.
"When the numbers started rolling in at the end of the night — I still get tearyeyed about it — oh my god, we just went from nine grand (in 2014) to 20 (in 2015). That's just amazing. That the community would do that, and see the value in what we do and what we provide. It's not just the kids. It's the people who come here to work out to reduce their risk of diabetes. It's our after-school program. And it's just really cool."
That money really helped, Cronin said.
"We were able to help more people," she said. "People come in and say, 'I can't afford this.' Instead of maybe a 35 percent discount, we could give them a 50 percent discount because we had that money."
And it all fits with the Y's mission: To make sure that everyone who wants to can participate in the Y's programs regardless of their ability to pay.