HILLSBORO — Dallas' boys basketball team lost to Glencoe 57-36 on Friday.
Jake Collins had 14 points and a steal, while Jason Richey added eight points and three rebounds. The Dragons trailed by seven entering the final quarter, before being outscored by 14 in the final quarter.
"I thou-ght we played really well for about three quarters without two start-ers against one of the most talented 5A teams in the state," coach Trent Schwartz said. "Our defense kept us in the game until the fourth, where we had a few breakdowns and gave away a few transition buckets to let them pull away."
Dallas (0-2 overall) played Hillsboro Tuesday after press time. The Dragons play at Milwaukie on Thursday before hosting North Salem Tuesday at 7:15 p.m. and facing Redmond at South Albany High School on Dec. 21.
"We need to improve our rebounding and be more efficient offensively in the coming games," Schwartz said. "I love our energy right now, and we are playing together. Jason Richey is doing a great job running the point for us in Aaron White's absence. Jake Collins had a monster game for us attacking the basket off the bounce for us."
SWIMMING DROPPED BY SILVERTON : Senior Jolie-Rae Ford finished first in the girls 200-yard freestyle with a time of 2 minutes, 6.16 seconds during Dallas' swim meet against Silverton on Dec. 6. She also won the 100 freestyle (58.21 seconds).
Ryan Kennedy took first in the boys 200 freestyle (2:07.94). Kennedy also placed first in the 500 freestyle (5:40.83). Gabe Applegate won the boys 100 butterfly (1:20.16).
Dallas' boys and girls swim teams lost to Silverton on Dec. 6. The boys fell 117-44, while the girls lost 132-29.
Dallas competed at Crescent Valley Tuesday after press time. The Dragons host the Paul Mannen Invite Thursday at 2:30 p.m. in a special event.
"Dallas has had an invitational in previous years," coach David Morelli said. "I continued the tradition last year. When I read about Paul after his death and that, as the Athletic Director of Dallas High School, he encouraged invitational tournaments in Dallas, I asked permission from the school and the aquatic center to name our annual invitational after him."
Mannen, who died on April 12, served as Dallas' AD from 1996-99. He was inducted into the Oregon Athletic Directors Association's Hall of Fame in 2009.
The invitational will be a way to honor all that Mannen contributed.
"I know that in his retirement he continued to be present in the community," Morelli said. "... Like Paul, I believe that an invitational brings teams from around the area into Dallas."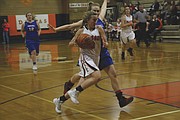 A shadow box with Paul's swim gear and a plaque that will list the champions of the invitational each year.
WRESTLING FINISHES FIFTH AT ROSE CITY CHAMPIONSHIP: Dallas' wrestling team finished fifth at the Rose City Championship on Saturday.
Joseph Foster (126 pounds) finished second to lead the Dragons. Treve Earhart (third, 182), Clay Coxen (fourth, 182), Cody Janssen (fifth, 170) and Ryan Bibler (sixth, 113) also placed.
The Dragons will compete at the Liberty Invitational in Hillsboro Saturday at 9 a.m.
GIRLS BASKETBALL LOSES TWO: Dallas' girls basketball team lost to The Dalles 58-50 on Dec. 6 before falling to Churchill 39-37 on Friday. Stats were not available. The Dragons (0-3 overall) played South Eugene Tuesday after press time. Dallas plays at Hillsboro on Friday.