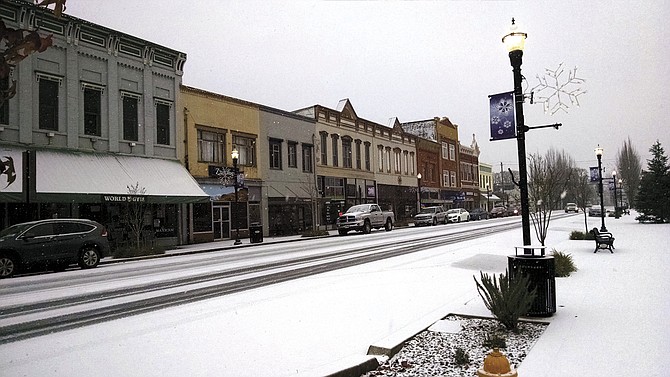 POLK COUNTY — Thursday dropped snow on Dallas and higher elevations in Polk County, and the ice and cold has lingered longer than anyone suspected it would.
As late as Monday morning, ice patches caused accidents and slippery driving conditions.
"We got surprised by a little cold pocket in the Dallas area," said Todd Whitaker, Polk County director of public works. "You can go from good stopping distance to horrible stopping conditions in 100 feet, and be in and out of it in 100 feet."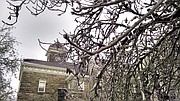 While the snow has mostly melted in the valley, above 1,000 feet in the Coastal Range and through the passes, expect to see lots of snow, said Gerald Macke, meteorological technician with the National Weather Service.
The snow will return Wednesday afternoon, though meteorologists are unsure how much accumulation there will be — or how the winter weather will take form: sleet, freezing rain, or snow.
"It doesn't have much of a warm up this coming week," Macke said. "We're going to stay pretty cool. We have possible snow showers every day next week."
Cold weather tips
POLK COUNTY — During snow, the Polk County Public Works Department works to keep county roads clear for traffic. Keep an eye out for snow plows.
When roads need to be plowed, the county prioritizes them based on many things, including traffic. Some county roads are not plowed. Keep extra medication, food, and other supplies when storms are forecasted.
It is the property owner's responsibility to clear driveways and access roads.
For a full list of tips, see the link, "Winter Season Road Bulletin 2016-2017" on the county's website: co.polk.or.us.
The lows will dive into the 20s, Macke said.
"Anything that's on the ground will stick around, and any water will freeze for sure," he said.
Whitaker said Polk County crews have been busy plowing and sanding main roads.
"Drive with caution," he said. "Pay attention to the weather forecast and the temperature forecast. Don't follow too closely, and don't get angry at the person driving slow in front of you because they are just being cautious."
With 57 inches at Government Camp, it's a good sign Oregon may be out of the drought, but meteorologists are staying watchful.
Last winter, the snow fell heavy in November and December, but then melted by a warm spell in February, Macke said.
"It started off OK (last year), but petered really fast," he said. "For water retention, we hope the snow continues."
As for a white Christmas in Polk County at the valley floor, it's unlikely, Macke said.
"If you're willing to drive a little bit, you're going to be able to find a white Christmas," he said. "You don't have many white Christmases in the valley level. For winter weather, it takes too much to be just right for cold and moisture."
It's still early, Macke said, and with winter comes wintery weather.
"It's only December," he said. "We still have an awful lot of winter to go. You can expect wintery conditions to continue off and on throughout the winter."
More like this story