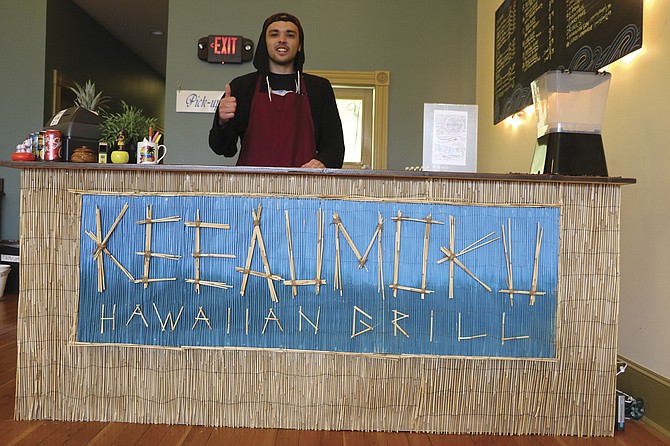 INDEPENDENCE — When owners Jaysen and Sylvia Ridout opened their doors to the Keeaumoku Hawaiian Grill, located at 268 S. Main St., Independence, on Dec. 3, they expected a chance to settle in.
"We were actually thinking we were going to have a soft opening and get the kinks out in the kitchen," Ridout said.
But word spread throughout the community and Keeaumoku's "soft opening" turned into the talk of the town.
"We were really unprepared for that," Jaysen said. "Word spread, and we didn't even post anything on social media or pass out fliers." 
Aloha
What: Keeaumoku Hawaiian Grill.
Where: 268 S. Main St., Independence.
Hours: Tuesdays through Saturdays, 11 a.m. to 8 p.m.
Of note: Owners Jaysen and Sylvia Ridout bring Hawaiian flavors to Independence.
For more information: 503-420-6695.
There's good reason the community has been chomping at the bit.
The Ridouts previously ran the Pandan Leaf food cart out of Salem.
"We were doing Filipino fusion food," he said. "It had Vietnamese, Korean and Hawaiian influences, but we wanted to make that transition to a restaurant."
Food is more than Ridout's profession. It's helped him become closer to family.
Growing up, Ridout's father wasn't a part of his life, but thanks to a shared passion for food, the two became closer when he was 16.
"The way we got reconnected was basically through food," Ridout said. "He would tell me his dreams and his passion about owning a restaurant."
Keeaumoku is a realization of both their dreams.
"I would say people can expect a really hearty plate," Ridout said. "Hawaiian food is known for that. We want to offer really hearty plates at affordable prices."
Independence was always high on the Ridouts' list of places to make a family dream come true.
"It has this really cool small-town atmosphere," Ridout said. "This seemed like one of the best spots to open a restaurant in, and then this spot became available. It was a bit like fate."
The Ridouts are open Tuesdays through Saturdays from 11 a.m. to 8 p.m., but are considering expanding to Sunday mornings, as well as trying a breakfast menu.
As for an official grand opening?
"I think it's probably too late for that," Jaysen said, smiling.
For now, Jaysen and Sylvia are having to work out the kinks on the fly because Keeaumoku is quickly becoming a popular spot for locals.
"We are, in a way, living out my dad's younger dreams of opening a restaurant," Ridout said. "We didn't expect the community to be this welcoming. That was really cool. We're really here to serve people great food."