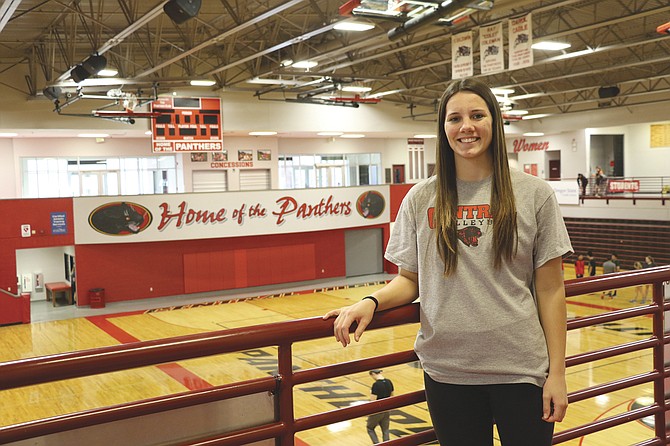 INDEPENDENCE — It wasn't so long ago that senior Alex Dowdell was content with her role on Central's volleyball team. Since her sophomore season, Dowdell had been a key contributor on varsity, but she was never the one to take charge.
"I was quiet and did what I was told," Dowdell said. "I followed and didn't lead."
A plea from Panthers coach Claudine Mendazona changed Dowdell's tune in a hurry.
"Coach would always get after us seniors to step up and be a leader," Dowdell said. "I thought, why not me?"
By the end of the season, she was no longer the quiet player content with following. Dowdell was the team's full-blown leader, which makes her the 2016 Itemizer-Observer's Volleyball Player of the Year.
—
When Dowdell's family moved to Independence prior to her eighth-grade year, it meant a big lifestyle change.
Before the move, she helped out on her uncle's cattle ranch with various chores and work with horses. Dowdell never had time to play sports, but moving into the city changed all that.
"I just wanted to play a sport," Dowdell said. "I had some friends who played volleyball, so I went out. I thought I would play for a year or two, but that I wasn't going to be very good at it."
Turns out she was a natural. She made Talmadge Middle School's "A" team her eighth-grade year.
"Our coach Andrew Francis would tell me how much potential I have," Dowdell said. "I thought, let's see how far I can go."
Her biggest challenge?
"There are a lot of rules I had no clue even took place," Dowdell said. "You think your job will be easy, but you see quickly that it takes a lot of talent to be able to pass and set."
She made junior varsity her freshman year of high school, then varsity her sophomore season.
"My junior year, I thought this is really fun," Dowdell said. "I want to do this for the rest of my life."
She had all the physical tools to succeed. But something was holding her back.
"She used to be very quiet on the court," Mendazona said. "She was somewhat intimidated by her teammates."
Since Mendazona's request of her senior to lead, Dowdell shed her quiet nature.
"You earn the trust of other players," she said. "When you're talking on the court, or you're there to make the play, you can help inspire other players and they trust you more. That benefits the team."
On the court, she was a versatile player, able to fill in at any position needed.
"I think I was better at reading the opposing teams," Dowdell said. "I knew what they were doing and was better at moving to the spot they were going to hit or put the ball before it gets there."
Dowdell led the Panthers this season with 203 kills and aces (26) and was second in digs with 172.
She was also the one to lead the team in warm-up stretches or give encouragement during a tough stretch in a match.
"Alex grew tremendously, mentally and physically, in her game," Mendazona said. "… I was pleased with her growth on the court and seeing her take a leadership role and working hard to be a better player."
Dowdell hopes that volleyball can carry her even further.
The senior plays on a club team with the hopes of getting her name out to a number of colleges.
"Coaches would tell me I could play at either a Division II or Division I school," Dowdell said. "If they think so, hopefully college coaches will."
Time will tell where volleyball takes Dowdell, but the journey has been fun thus far.
"It's amazing to see how far you can come with dedication and hard work," Dowdell said.