INDEPENDENCE — The Independence City Council met in a special session with the planning commission to discuss changes to industrial zones and where marijuana-related businesses should be allowed.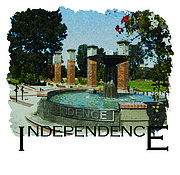 The city has three industrial zones: industrial park, light and heavy industrial zones.
Changes would affect heavy and light zones, should the council and planning commission approve. The process requires public hearings, and will take at least four months to complete.
The proposal includes defining setbacks from the property line by 15 feet from the front, increased landscaping requirements, and parking on the side or behind the building.
Any industrial business already established or any that is going through the process of approval would be grandfathered in, and not be required to conform to the new rules, said Laura LaRoque, associate planner for the Mid-Willamette Valley Council of Governments.
The changes came after residents from the Independence Airpark complained about the possibility of a marijuana processing center and grow facility being planned on Stryker Road.
LaRoque met three times with community members, mostly from the airpark, and said the proposed changes — while not completely satisfactory to all — were a good compromise between community members and business owners.
The other thing the commission and council discussed was where marijuana businesses — from grow facilities to processing to retail outlets — should be allowed in the city.
Currently, nearly the entire city is available to legally establish a marijuana-related business of some kind, except for within 1,000 feet of the schools, in accordance with state law. The city is allowed to add restrictions.
The council and commission looked at two other scenarios with additional buffers.
One scenario included a 250-foot buffer around parks, the library and in the downtown area.
The other included an additional buffer of 100 feet around all residential zones.
Because of the way Independence is set up, the third option left much fewer locations for marijuana businesses.
The council also is considering marijuana business licenses, which would be for all businesses, including those who have already established themselves.
Independence has two medical dispensaries that also sell recreational marijuana.
The businesses would be required to apply for a marijuana business license, which requests information about investors and employees, similar to the business licenses the city requires for new liquor businesses.
Independence residents approved a 3 percent sales tax on Nov. 8 to be added to all recreational marijuana sold inside city limits.