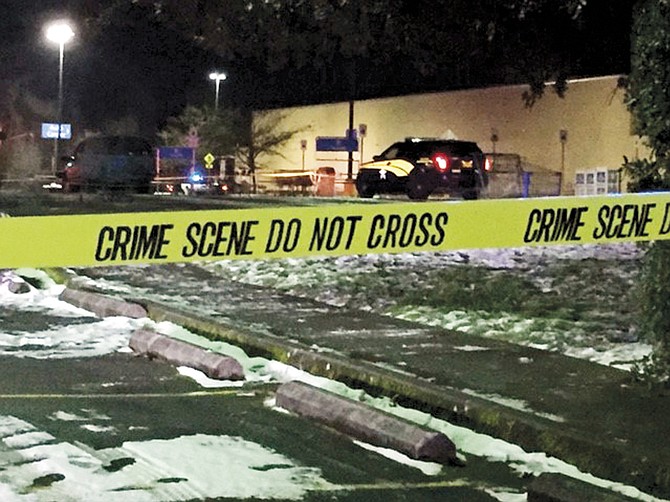 DALLAS — Jeremiah N. Anderson was shot and killed during an officer-involved shooting in the Dallas Walmart parking lot on Friday evening, according to Oregon State Police.
A preliminary investigation by OSP and its partners revealed that at 5:26 p.m., three Dallas police officers responded to a complaint of an adult male who appeared intoxicated in the parking lot at Walmart.
OSP Captain Bill Fugate said that an officer does not have to catch someone driving, but can use probable cause to determine if they were operating a vehicle while intoxicated.
Officers attempted to take Anderson, 36, of Dallas, into custody for driving under the influence of intoxicants.
According to the report from OSP, Anderson resisted arrest and fired as many as two rounds, striking Sgt. Rob Hatchell in the leg. Hatchell and officer Mike Fleming returned fire, striking Anderson, reports state. Anderson was pronounced dead at the scene.
Hatchell was released from the hospital shortly after receiving treatment for his injuries.
All three officers have been placed on paid administrative leave pending the outcome of the investigation.
Officer Aaron Mollahan was also present and was not injured.
Investigators located Anderson's firearm at the scene.
Fugate said Monday that he did not know who the gun was registered to nor if police video of the incident was available. He said information would be shared once authorized by District Attorney Aaron Felton.

Anderson had previous police encounters, according to court records. The most recent was a 2015 violation of his probation following a conviction in a DUII incident that took place in late 2013.
The community has reacted in a variety of ways.
Dallas Police Chief Tom Simpson said the department gives any threat the appropriate level of attention and shares information with other public safety officials in the region.
OSP is leading the investigation at Simpson's and Felton's request.
OSP is being assisted by Grand Ronde Tribal Police, Polk County Sheriff's Office, Monmouth Police Department, Independence Police Department, Salem Police Department, and Dallas Fire & EMS.