As we approach Christmas and the new year, a lot of us enjoy family gatherings and company parties. Most people are looking to have a good time and sometimes alcohol comes into play. Then comes the decision after you have had a drink. Do you have a ride home? Do you take the chance and drive home? Or do you call a taxi? Unfortunately, a lot of the times people choose to drive when they shouldn't. Some people may get home safe or they may get arrested for DUII. Worse yet, they may get into a crash that may hurt another person or even cause loss of life. These decisions cannot be taken back and you could be stuck with an unforgivable outcome.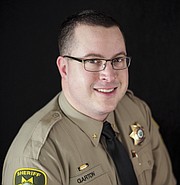 Throughout my career, I have arrested many people for DUII, people from all backgrounds and of all ages. I have also investigated many traffic crashes where one of the involved drivers was impaired, whether because of alcohol or drugs (or a combination of the two). While at those crash scenes I have seen people that were injured and some that had passed away as a result of the crash. Some of the most difficult crash scenes involve the death of a child, at the hand of an impaired driver who decided to take a chance by driving.
I want to share some statistics about impaired driving both here locally and throughout the US to give you some perspective. Last year in Oregon there were over 17,000 people who were arrested for DUII while across the US the number of arrests for DUII topped 1.5 million. The total number of traffic deaths across Oregon last year was 447 – a jump from 357 in 2014. In 2015, 155 people died in crashes in Oregon where alcohol was a factor, up from 99 the year before (56.6 percent increase).
Just over six years ago, I had a family member pass away because she was hit head on by an oncoming vehicle near Rickreall. The other driver was late to an appointment and simply crossed the center line and struck her head on. The other driver lived. During the investigation it was determined that the other driver had been drinking, but only had a 0.05 blood alcohol content (BAC). He also had several different drugs in his system, including methamphetamine and cannabis. He was charged and convicted of manslaughter and was sentenced to prison and he will get out in 2021. Having alcohol and a variety of drugs in his system caused him to crash that day and kill another human.
Regardless of the drug(s) someone has in their system, if they are impaired, they will get arrested. Law Enforcement doesn't have the luxury of being able to test someone's blood, urine or breath on the side of the road. They simply look for impairment and then the police officer makes a decision to arrest or not. Sure, the legal limit in Oregon for DUII (alcohol) is 0.08 (BAC). However, you can be arrested and convicted for DUII if you only have a 0.05 BAC. Someone may not have any alcohol in their system at all, but consumed marijuana and they would be arrested for DUII. The point is, if you are impaired, regardless of how you became that way, you can be arrested.
In Polk County if you get arrested for DUII (or any other crime) you will go to the Polk County Jail. The only way to get released from the jail is to have a judge authorize the release or if someone posts your bail. As if being lodged in jail wasn't the worst thing, you could also lose your driver's license, your insurance rates could go up and you could end up paying a lot of money in fines as well.
People make decisions every day that could change their life and yet a simple decision to say no or to hand your keys to someone else isn't always made. These seemingly easy choices are often made without totally seeing their potential impact not only to themselves, but to the lives that are lost every day at the hands of those who choose to drive while impaired. When it counts, make the right choice and allow everyone to get home safe.