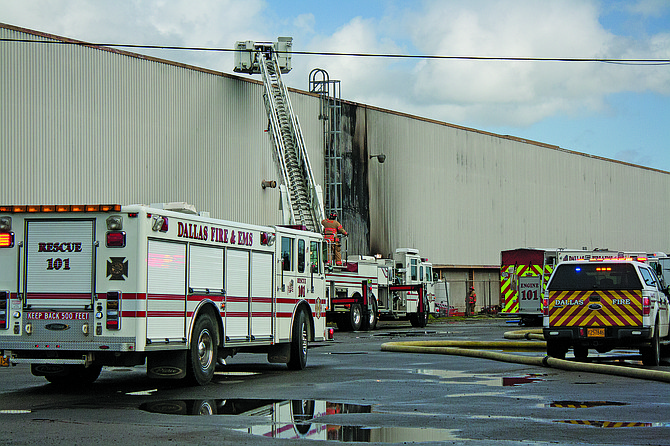 POLK COUNTY — The past year has been an eventful one.
From elections to sports teams, there has been no shortage of news that affected Polk County.
Here are the 10 most read stories online:
1. Dallas teacher and coach arrested on sex abuse charge — Sept. 13, 2016
Police found evidence to support allegations that Kirk David Myrold — a Spanish teacher and girls' soccer coach for Dallas High School — had been involved in an inappropriate relationship with a 17-year-old female student of the high school.
Myrold was arrested and charged with one count each of luring a minor, a felony, and second-degree sexual abuse, also a felony.
He pleaded not guilty to three charges in Polk County Circuit Court on Sept. 27.
Myrold was arraigned on one count of luring a minor and two counts of second-degree sex abuse. All three counts are Class-C felonies.
UPDATE: Myrold had a pretrial conference on Thursday. His next court date is had not been scheduled as of Tuesday morning.
2. Local youth dies in swimming accident — June 27, 2016
Cody Watson, 16, of Monmouth, died while swimming on June 26, according to the Wheeler County Sheriff's Office.
Deputies from the sheriff's office were called to the John Day River about eight miles west of Spray at noon on reports that a 16-year-old male had disappeared beneath the surface of the river while swimming with friends.
A celebration of the teen's life was held at Panther Stadium.
3. One killed in early morning crash in Dallas — Nov. 16, 2016
Louis Hildago, 39, of Dallas, was killed after a head-on collision with a Toyota Tacoma, driven by Tad Young, 34, of Silverton.
The crash occurred on Nov. 16 at about 3:15 a.m. on Highway 223 near milepost 1, just north of Dallas.
A Kenworth tractor pulling a loaded log trailer swerved to avoid the collision, left the roadway and came to rest in the ditch.
Fatigue may have been a contributing factor in the crash.
Young suffered minor injuries and refused medical transport.
Steven Follett, 65, of Philomath, the driver of the Kenworth, was uninjured.
4. Dallas Police seeks help with identifying person of interest — Feb. 22, 2016
The Dallas Police Department asked for help identifying a person of interest in connection with a theft of about $3,000 in jewelry from a business in the 800 block of Main Street. The theft occurred at about 3:30 p.m. on Feb. 8.
UPDATE: Dallas police have still not identified this person, though officers have followed up on several leads, Lt. Jerry Mott said.
If you have information about this incident, contact Senior Officer Colby Hamilton at 503-831-3516.
5. Man dies after officer-involved shooting in West Salem — July 6, 2016
A Polk County deputy shot a man on Tuesday night during an attempt to take him into custody on Highway 22. The man, Joshua A. Bolster, 29, of Salem, was transported to the Salem Hospital where he died from his injuries.
A grand jury later found Deputy Casey Gibson was justified in shooting Bolster.
6. Dallas Police Officer injured, suspect dead after shooting — Dec. 16, 2016
Jeremiah N. Anderson was shot and killed during an officer-involved shooting in the Dallas Walmart parking lot on the evening of Dec. 16, according to Oregon State Police.
A preliminary investigation by the OSP and its partners revealed that at 5:26 p.m., three Dallas police officers responded to a complaint of an adult male who appeared intoxicated in the parking lot at Walmart.
Officers attempted to take the male, identified as Anderson, 36, of Dallas, into custody for driving under the influence of intoxicants. According to the report from OSP, Anderson resisted arrest and fired as many as two rounds, striking Sgt. Rob Hatchell in the leg. Hatchell and officer Mike Fleming returned fire, striking Anderson, reports state. Anderson was pronounced dead at the scene.
Hatchell was treated and released.
7. Polk County burglary suspect arrested — March 11, 2016
A Polk County Sheriff's deputy and Dallas police officer stopped a burglary in progress on the morning of March 11, arresting the suspect without incident.
A report of a burglary in the 8500 block of Red Prairie Road was called in at about 6:40 a.m. The 911 caller said a male subject had broken into the house and was still inside. The owner of the residence was not home at the time.
Bradley Bond, 38, of Monmouth, was arrested on charges of first-degree burglary, first-degree trespassing, second-degree theft, second-degree criminal mischief and possession of methamphetamine.
8. Fire at Forest River contained — March 3, 2016
The investigation into the cause of a fire at Forest River in Dallas is ongoing, but fire officials know one thing for sure: the RV manufacturing plant's interior sprinklers saved the day.
Firefighters were called to the plant, at 1429 SE Uglow Ave., at about 11:55 a.m. By the time fire crews arrived, Forest River's workers had been evacuated.
According to firefighters on scene, the fire appears to have started on the outside of the building and traveled up the wall. The blaze triggered the sprinkler system, which knocked down the fire that had spread to the inside of the building.
9. American Gas, Tech to bring 900 jobs to Dallas — Feb. 24, 2016
American Gas & Technology (AG&T) founder Ray Tate Jr. said the company is developing the "21st century gas station" and its vision is as big as the facility it's remodeling to build its dream.
AG&T, which specializes in the development of liquefied natural gas fueling stations, bought the long-vacant Tyco building in Dallas.
Tim Tight projects AG&T will bring back the jobs lost when the plant went dark nearly 10 years ago.
He said there are other plans for investing in the community, including developing a welding school that will offer local students internships to learn the skill.
10. Dallas PD investigating Thursday night crash on W. Ellendale — May 6, 2016
The Dallas Police Department is looking for witnesses to a crash that occurred at about 9:38 p.m. on May 5 in the 800 block of West Ellendale Avenue in Dallas.
According to police, an adult male had crashed a 1996 Mitsubishi Eclipse into several mailboxes before hitting a tree. The driver was transported to a hospital. There were no passengers.
UPDATE: Kyle Bradford, 23, Polk County resident, was cited and released for driving under the influence of intoxicants, reckless driving, second-degree criminal mischief and third-degree criminal mischief, Lt. Jerry Mott said.