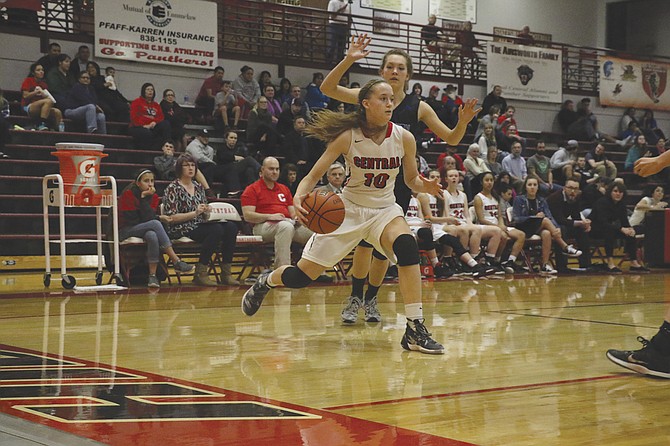 INDEPENDENCE — At the halfway point in Mid-Willamette Conference play, Central's girls basketball team appears to be in a strong position. The Panthers entered the week in sole possession of third place with a 5-2 mark in league play and ranked ninth overall in the OSAA's power rankings.
But the girls aren't satisfied.
"We're working on what we need to do and not focusing so much on the opponent," Panthers coach Julie McDonald said. "We're still working on playing against pressure and playing within our offense and making that extra pass."
Central lacks the depth as some of its competitors, but underclassmen like Krista Omlid and Elizabeth Chavez have settled into major roles.
Senior Kylie Nash continues to lead the squad in scoring, but the Panthers have received contributions for nearly everyone on the roster on a game-by-game basis, but players know they must be more patient on the court.

"We learned we have to play as a team," Omlid said. "It's not just dribbling through people. You can't worry about your own stats. Ball movement is key for us and just going hard and putting in our best effort."
The team, which hosts Dallas Friday at 7 p.m., hopes to improve its standing.
The Dragons entered the week just one game behind the Panthers, and players hope to get a taste of revenge against undefeated Silverton (7-0 MWC) and second place Corvallis (6-1 MWC) — the two teams responsible for Central's only losses in league play.
The top two teams in the league gain an automatic berth to the state playoffs, while the third and fourth seeds host a play-in game.
"We want to beat Dallas here, of course," Omlid said. "We have to beat all those teams we beat again and we have to get Corvallis. We're after them next time. I think our main goal is to beat Silverton. We want to shut them down."
To achieve that, McDonald said Central will have to keep focused on improving each day.
"We've set ourselves up nicely with wins at Dallas and at Lebanon," McDonald said. "We have to let the chips fall where they fall. We have to take care of business against the teams that we should and move up as high as we can."