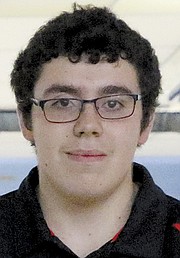 DALLAS — Morrison senior Luke Mann had never picked up a bowling ball before his freshman year of high school.
"I saw an ad in the (Dallas) school paper and I thought it looked pretty fun," Mann said.
Curiosity got the better of him and Mann joined Dallas' bowling team that year, though he soon realized he had a lot to learn.
"I played mostly just for fun," Mann said. "I didn't know what I was doing. … I wasn't good at all. We went to districts that year but I was kind of at the bottom of the totem pole."
Mann is no longer at the bottom, placing first in the all-star scoring at the District 2 championships on Jan. 24, helping Dallas to a third-place finish.
The team earned a trip to state Feb. 27-28 in Klamath Falls for their efforts.
—
The seeds of Mann's success began his sophomore year when he switched from a one-handed to a two-handed delivery.
That change in delivery gave him more control over his throws.
"I started getting pretty good then," he said.
The senior also made it a point to recruit new players to the sport.
"Most of the guys on our team are seniors," Mann said. "I recruited a lot of them to join and we know we're pretty up there on the goodness factor."
Bowling has provided Mann an outlet to have fun and friendly competition with friends — but he also has high expectations for himself and his teammates.
"I want to win," Mann said. "I think we can do it too. We have a chance."
Until state, the Dragons will work on fine-tuning their technique.
No matter what happens, Mann said he wouldn't trade his experience in bowling in high school for anything.
Mann doesn't plan to stop playing anytime soon.
"I'll definitely do leagues," Mann said. "I won't be able to bowl as much because I'll work full time, but I'll keep going with it and see what happens."