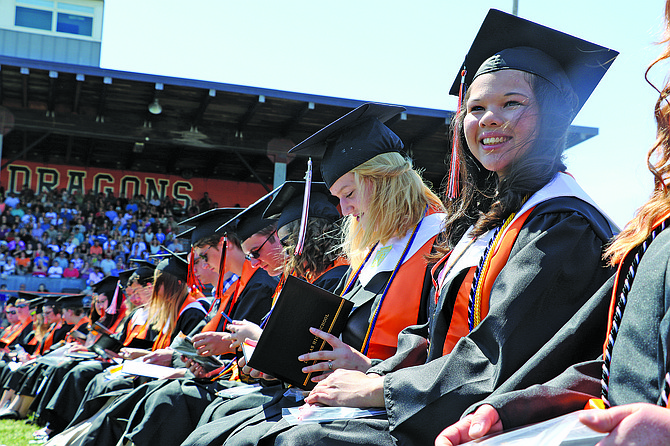 POLK COUNTY — Dallas, Perrydale and Central made big gains in their on-time graduation rates for the 2014-15 school year, though Central's may not read that way on the state report.
The four-year graduation rate tracks the number of students who enrolled in ninth grade in 2011-12 and earned diplomas within four years.
Perrydale notched a perfect 100 percent graduation rate, up from 87 percent in 2013-14.
Dallas improved to 82 percent from 66 percent in the previous year, according to a report from the Oregon Department of Education released Thursday.
Central's officially reported rate fell just slightly to 72 percent from 73 percent, but that excludes 26 kids who were part of the district's fifth-year program.
Those students completed all work needed to earn a regular diploma and should have been included in the four-year rate, said Superintendent Buzz Brazeau. Students in the fifth-year program are awarded an "advanced diploma" after finishing a year of classes at Chemeketa Community College.
Brazeau said in the state's report only two students were listed in the "diploma earned but not awarded" category when it should have included 28.
He said the mistake was caught too late to change before the data was released, but it will be reported accurately in next year's report.
If those students had been included, Central's rate would have been 84 percent.
"It would make it significantly different, but it did not get reported or categorized correctly so we are stuck with the number they show," Brazeau said.

In recent years, Dallas has put its focus on helping students meet "essential skills" requirements in math and language arts, said Dallas High School Principal Steve Spencer.
Essential skills are achievement benchmarks in the subjects of reading, writing and math that students must meet in order to graduate.
Spencer said the school is working to identify students needing assistance sooner and has assigned its teachers in those areas a group of students to track and provide interventions if needed.
"It's nice to see the hard work paying off," Spencer said.
He added part of the gain is providing kids access to dual credit through Willamette Promise and other higher education opportunities, such as the fifth-year program Extended Campus.
Working toward a goal of college keeps kids motivated to finish strong in high school, Spencer said.
"This gives us an opportunity to challenge those at the top and provide interventions for those who might need them," Spencer said.
Perrydale has taken a similar strategy to get to the 100 percent mark.
"We have a very dedicated staff that looks out for the students," said Superintendent Eric Milburn.
Milburn said his staff tries to identify students who may have struggles early and offer plenty of opportunities for extra help.
Perrydale hosts daily study sessions and has staff on hand on Fridays at least once a month for students to put in extra time.
He added the school will have to remain as vigilant to ensure this year's senior class can achieve the same amount of success.
"I think we are just always evaluating and analyzing and making sure they (students) have additional support," Milburn said. "It's a whole team effort where we are making sure kids are accomplishing."
Falls City's rate slid to 50 percent from 60 percent the year before. The district's 2014-15 senior class consisted of 12 students.
Superintendent Jack Thompson said by the end of this year, all but two of last year's seniors will have completed their graduation or GED requirements.
"The sad thing is that does not get recorded by the state," Thompson said. "The most important thing is that they continue to try and end up succeeding. We are proud of the hard work our students put into their education."
Kings Valley Charter School, which is located in Benton County's Philomath School District but serves many Polk County students, saw a four-year grad rate of 62.5 percent for its class of eight seniors.
ODE's report included each district's four-year completer rates, which includes students who earned adult high school diplomas or GEDs within four years.
Those rates for Polk County schools were: Central, 86 percent; Dallas, 84 percent; Falls City, 58 percent; and Perrydale, 100 percent.
Fifth-year rates, which include students who enrolled as freshmen in 2010-11 and graduated or completed in five years, where: Central, 83 percent completion rate and 88 percent completion rate; Dallas, 82 percent grad rate and 86 percent completion rate; Falls City, 50 percent grad rate and 60 percent completion rate; and Perrydale, 87 percent grad rate and 87 percent completion rate.
The state also released dropout rates for 2014-15: Central, 1 percent; Dallas, 2.75 percent; Falls City, 4.25; Perrydale, 0; and Kings Valley 0.

The dropout rate represents the percentage of students who left school between July 2014 and June 2015 and didn't enroll elsewhere.
The statewide four-year graduation rate rose nearly two percentage points in 2014-15 to 73.8 percent. The state's dropout rate is 4.26 percent.
To view the full report: click here.