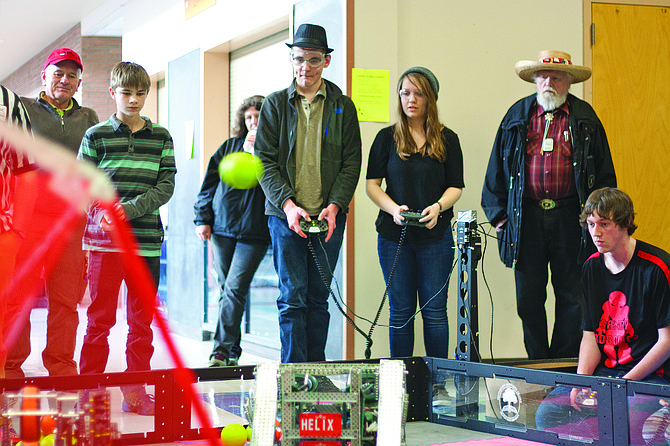 Poultry swap Sat at fairgrounds

The 2016 Oregon Winter Poultry, Homesteading Faire and Seed Swap is Saturday at the Polk County Fairgrounds & Event Center.
Sponsored by Oregon Poultry Swap Inc., the event is in the main and small animal buildings from 9 a.m. to 4 p.m. at the fairgrounds, 520 S. Pacific Highway W. (99W), Rickreall.
There will be 100 vendor spaces filled with many breeds and ages of chickens, waterfowl, turkeys, quail, hatching eggs, rabbits and more.
Also available will be poultry supplies, homemade jams, pickles, vanilla, honey, sauces; jewelry; goat milk soap and lotion; wool/fiber products; arts and craft items and plants
This event is free and open and to the public. 
For more information: www.oregonpoultryswap.com
Community benefit yoga class on tap
Dallas Yoga & Balance Studio, 115 SE Court St., Dallas, is holding its monthly donation yoga session on Saturday from 11 a.m. to noon.
All you need to do is bring a few personal care items, cleaning supplies, baby items or paper products, or throw a couple of bucks in the kitty. All donations will go to Family Building Blocks this month.
For more information: 503-999-8016 or www.dallasoregonyoga.com.
Gentle House to host grape pruning
The Friends of Gentle House will sponsor a backyard grape pruning event on Thursday from 10 a.m. to noon. Participants will prune the Concord grapes lining the backyard of the Gentle House, 855 N. Monmouth Ave., Monmouth.
Master Gardeners will demonstrate pruning techniques. The public is invited to bring their clippers and gloves to receive training. Refreshments will be served.
The event is the first of the Gentle House Garden Days, with one on Feb. 25 to follow.
For a complete schedule or for more information: gentlehouse@wou.edu.
Ash Creek to host feature heads
The Ash Creek Arts Center's Second Saturday Family Art Class will be from 2 to 4 p.m. at the center, 311 S. Monmouth St., Independence.
Children and their parents will learn to make colorful cardboard heads with Paula Booth.
The class if free. Pre-registration is not required.
For more information: ashcreekarts.org.
Redgate to host Valentine's events
Redgate Vineyard will present "I only look loud," by Martin Martino Gerschwitz, who played with Iron Butterfly from 2005 to 2015, from 6 to 9 p.m. on Friday at the vineyard, 8175 Buena Vista Road, Independence.
Gerschwitz will share stories from on and off the stage. There is a $10 cover charge.
On Sunday, the winery will host a Valentine's Day concert by local duo Pisces Moon, with Brian and Kate Humiston, formerly of Full Circle Creamery. The concert will be from 1 to 4 p.m., with a $5 cover charge.
For more information: redgatevineyard.com.
Central choirs will host special event
Central High School's Jazz, Concert and Symphonic choir will perform a selection of songs Friday and Saturday at 7 p.m. Dessert and sparkling cider will be served. A raffle for gift baskets will also take place.
Tables can be reserved for $90 (eight seats with priority service) or individual seats can be purchased for $10 (adults) and $7 (students). General admission tickets will be available at the door.
The cabaret will have a love theme. Tickets are available online at www.chsperformingarts.org or through any choir student.
Master Gardeners to hold meeting

Master Gardeners will hold its chapter meeting Thursday at 7 p.m. at Trinity Lutheran Church, 320 SE Fir Villa Road, Dallas. Lynda Boyer, Restoration Biologist and native plant manager of Heritage Seedlings, will present on the Oregon Flora Project.
The meeting is open to the public.
Square dancing returns to Guthrie
The Guthrie Park Community Center, 4230 Kings Valley Highway, will host its second Saturday Old Time Square Dance from 7 to 10 p.m. Admission is $5 for adults. Children 12 and younger are free. A family rate of $15 for families of four or more people is also available.
No experience is necessary and all dances are taught. Live music will be performed by Cash & Company.
For more information: guthriepark@gmail.com.
American Sign class begins today
Sue Ritchie and Shanna Thomas will teach a six-week beginner American Sign Language class every Wednesday starting today through March 16 at Monmouth Senior Center.

The class, which runs from 9 to 10 a.m., will teach basic ASL signs, the alphabet, and basic sentence structure. There is no cost to attend.
Senior Center to host potluck Friday
The Monmouth Senior Center will host a meatloaf potluck Friday at noon. Attendees are invited to bring a salad, side dish or dessert and table service.
Michael VanDyke and James Lyman will be present during the potluck. VanDyke and Lyman are rock hounders who will share some of their finds, how they got started and even take people on local digs if there are interested individuals.
Center hosts class on Constitution
Gary Huxford, retired professor from Western Oregon University, will teach a course titled "The Constitution: The Use and Abuse of History" at Monmouth Senior Center. The class, which began on Tuesday, will run for six weeks Tuesdays at 9 a.m. There is space for about 30 people to attend each class. There is no cost.
The course will cover subjects such as colonial backgrounds of the Constitution, the convention, what does the Constitution say and what is left out and/or implied and more.
For more information: Susan Teal, steal@ci.monmouth.or.us.

Brunk House looks for more gardeners
Marsha Braciosa is looking for people to help in the gardens at Brunk House, 5705 Salem Dallas Highway NW, Salem. If inclement weather, volunteers will meet in the house to plan this year's garden and schedule events. Work days to prune roses will be held Tuesday and Feb. 23 from 9 a.m. to noon. For more information: 503-363-6003.
Fiddlers perform in Salem on Saturday
District 8 of the Oregon Old-time Fiddlers' Association will perform Saturday in the rotunda of the Oregon State Capitol as part of the state's birthday celebration. There will be two performances from 10 to 11 a.m. and noon to 1 p.m. at 900 Court St. NE, Salem.
Performances will include American traditional music, swing and bluegrass. Oregon's 15th birthday celebration runs from 10 a.m. to 2 p.m. Events will include covered wagons displays, costumed historic interpreters, the original state constitution and more.
For more information: Richard Dery, 503-585-9595.
Dallas Alliance has Chocolate Sunday
Dallas Alliance Church, 775 E. Ellendale Ave., will host Chocolate Sunday, its annual event for the church's women's missionary work Sunday from 2 to 4 p.m. in the Fellowship Hall.
There will be chocolate desserts of all kinds and music.
Admittance by donation. The project raises money for displaced people in five areas of the world.
For more information: Esther Ediger, 503-623-9055.
More like this story